Cornwall's Ryan Girling adapts to American football life
Last updated on .From the section American football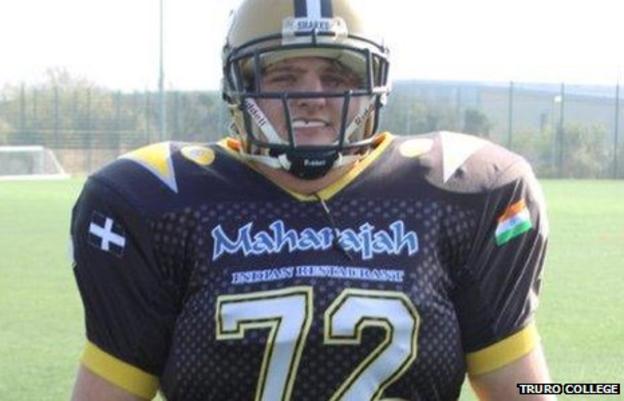 Former Truro College student Ryan Girling has admitted he has been surprised by the physicality of playing American football in the United States.
Offensive lineman Girling, 17, is five months into a four-year scholarship at Gracelands University in Iowa.
"It's a lot more hard hitting than I thought it would be," the ex-Cornish Sharks player said.
"These guys are big guys. I look at some of them and think to myself, how can someone that big move so fast?"
The Graceland Yellowjackets play college teams from across the United States and have produced players that have gone on to play in the NFL.
His training starts at 0530 every morning with a half-hour run before he pulls on the pads for team training.
He then heads into the classroom to carry out his studies before swimming, gym work and an evening team session.
Girling says he is still adjusting to the vastness of America.
"I thought Cornwall was quite big at first but when I got here it was just land and more land.
"The weather gets crazy, one day you're in baking heat and the next you're up to your ankles in snow."
Cornish Sharks head coach Brian Smallworth helped Girling get his opportunity to play in the United States.
"He's matured as a player and more importantly as a person. You can see the technique is there.
"He can't wait to get back to Cornwall in the summer and play for us again."
The Yellowjackets season came to an end in November and Ryan is now focussing on getting in shape for the next campaign.