Overcoming the odds
By Haydn Parry
BBC Sport, in Indianapolis
Last updated on .From the section American football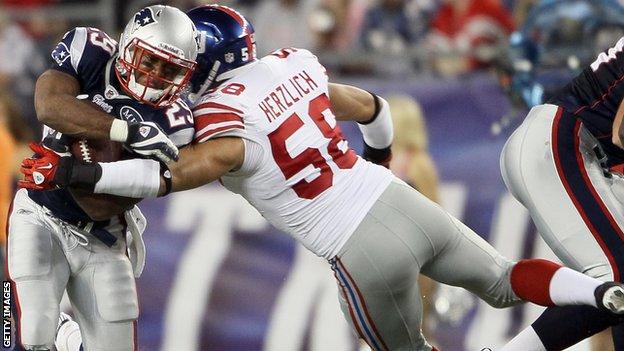 The week before the Super Bowl is mad - a feeding frenzy for the thousands of journalists who have gathered here in Indianapolis ahead of the biggest event in the American sporting calendar.
But while most of the attention is focused on Tom Brady and Eli Manning, the quarterbacks who will respectively lead the New England Patriots and New York Giants in Sunday's showdown, perhaps more should be made of a player who has truly overcome the odds to be here.
Giants' linebacker Mark Herzlich was an outstanding player in college, and had all of the NFL's scouts drooling over him.
But, two years ago, he was diagnosed with bone cancer and given the news that he might never walk again.
Herzlich then endured six months of chemotherapy before having a titanium rod inserted into his femur.
Having learned how to walk again, he then had to prove he could cope with playing in one of the world's most physically demanding sports.
"Being told you'd never walk again and not only doing that but then playing in the Super Bowl - it's a dream," he said. "And the journey's not over yet. There's more chapters to come."
Herzlich dreams of the Giants winning a fourth Super Bowl. If they're to do that, that man Manning is the key.
You get the sense here that the host city's population are definitely rooting for the little brother of their own quarterback, the Colts' Peyton Manning, rather than their hated AFC rivals the Patriots, who reached the Super Bowl by beating the Baltimore Ravens.
Eli Manning has already outfoxed New England on this grand stage four years ago in Super Bowl XLII but was keen to play down the value of any past triumphs, as well as the fact the venue this time is "Peyton's house".
"My mindset is that I'm just here to play a game. It's just coincidence that Peyton plays here," he said, surrounded by a scrum of journalists.
"This is a special experience and you don't know if you'll get here again. I think any time you have four more years' experience you are in a better place.
"But I think we have to create a mindset that it's a new game. It's the same teams but there's a lot of different make-up of players. What happened in the last Super Bowl doesn't matter. It's all about what we do on Sunday."
In some ways, the New York Giants form the surprise package in this year's Super Bowl. For most of the regular season it had seemed the Green Bay Packers were heading back to the season's climax or, failing them, the rampant New Orleans Saints.
But after struggling for much of the season, the Giants have come good at just the right time. In no small part, this is due to the boot of Lawrence Tynes, who was born in Greenock, Scotland.
It was his 31-yard game-winning field goal in San Francisco in overtime which clinched the Giants their ticket to Indianapolis, and for him personally, a second Super Bowl appearance.
He said: "You have to feel blessed. It's not a right to play in this league, it's a privilege. I work hard to stay in this league and my mindset every week is to keep my job.
"I've just been blessed to be in very good teams - with a good coach and players. That's the reason we're here in this game again, not just because of me but all the guys in the locker room."
A Celtic fan who follows his team from afar, he tells us he's planning to come over for the next Old Firm game against Rangers.
There's no trace of a Scottish accent anymore. He left the country when he was only 12-years-old but he tells us how he will often put his mother on speakerphone in the locker room after games so his team-mates can hear the genuine article.
Some of the Super Bowl's defining moments over the years have been last-gasp field-goal attempts. Score, and you're a hero. Just ask Adam "Iceman" Vinatieri, who won two Championships for the Patriots in Super Bowls XXXVI and XXXVIII.
Miss, and every year for the rest of your life, you will haunted by being forced to watch your kick sail wide of the uprights. Just ask Scott Norwood, whose miss in Super Bowl XXV resulted in the Buffalo Bills losing in the first of their four consecutive Super Bowl appearances.
So Tynes needs nerves of steel. Would part of him prefer not to have so much pressure on Sunday?
"If you play this position, you better have the attitude to go out there and make that kick. I would love that," he said.
Tynes and the Giants are up against a Patriots side looking for a fourth Super Bowl under coach Bill Belichick and if anyone personifies the team's ethos, it's the boss.
He responded to our questions with short, clipped answers but clearly relishes the chance to write another chapter in his franchise's glorious recent history.
Belichick said: "It's what you're here for. You work hard all year, all the meetings, all the practices, films, coaches' meetings, it's to play in this game.
"We've tried to be competitive every year. We've played in a lot of big games. The players will be well prepared."
Listening to his terse, emphatic delivery, you really would not doubt him.
Helping implement Belichick's vision will be Brady, the all-American quarterback with the good looks and intelligence that are the personification of the Hollywood director's idea of what a quarterback should be.
Twice deemed the Super Bowl's Most Valuable Player, he could get that accolade for a record-equalling third time on Sunday.
That achievement would bring him level with his idol, the San Francisco legend Joe Montana, who is the only three-time MVP to date.
"What helps me sleep at night is being the best I can be," he told us. "You prepare hard. You prepare like it's your first Super Bowl."
A California native, Brady grew up a San Francisco 49ers fan, worshipping the player he could now emulate.
"Rooting for the 49ers back then, they were great times," he added. "They were winning so many games. I remember being in the parking lot with my Montana or Steve Young jersey on, throwing balls.
"It was really great growing up in the Bay area at that time and watching two of the greatest quarterbacks of all time. That's when I began to fall in love with football."