NFL Wembley game is back on after legal dispute is settled
Last updated on .From the section American football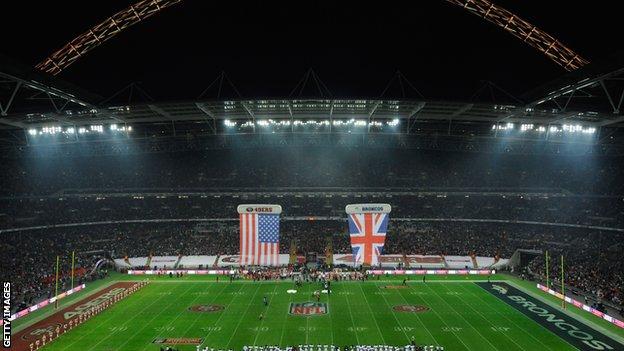 The latest NFL game in London will go ahead as planned after the resolution of a legal dispute involving one of the participants, the St Louis Rams.
The game had been threatened because Rams' stadium lease required that all of their home games be played in St Louis.
But the dispute was resolved in time for the NFL to announce the news shortly before the Super Bowl kicked off in Indianapolis.
St Louis, who are owned by Arsenal's Stanley Kroenke, recently agreed to switch one home game to the UK for three years.
Competitive games have been played in London since 2007 and the NFL announced last autumn that it was going to stage at least one match per season in the UK until at least the 2016 season.
Tickets will go on sale at 1400 GMT on Monday.