NFL suspends New Orleans Saints coach Sean Payton over payments
Last updated on .From the section American football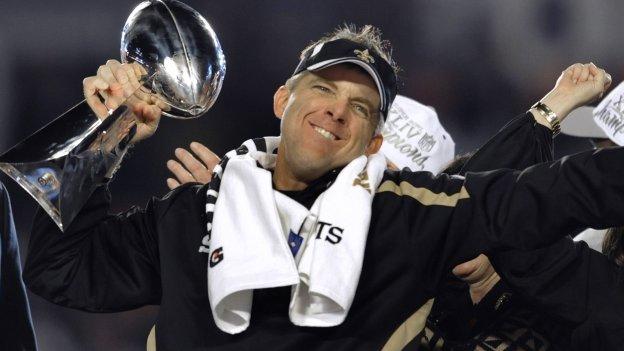 The National Football League has banned New Orleans Saints head coach Sean Payton for one year without pay for his part in running a "bounty" scheme.
Under defensive coach Gregg Williams, who has been suspended indefinitely, the Saints paid players for inflicting game-ending injuries on targeted players during the last three seasons.
"Knock-outs" were worth $1,500 (£950) and "cart-offs" $1,000 (£630).
NFL Commissioner Roger Goodell called Payton's actions "unacceptable".
He added: "We are all accountable and responsible for player health and safety and the integrity of the game. We will not tolerate conduct, or a culture, that undermines those priorities.
"No-one is above the game or the rules that govern it."
Payton, who led the Saints to victory in the 2010 Super Bowl, was accused of trying to cover up the system of extra cash payments and is the first head coach suspended by the league.
His club have accepted his punishment and the numerous others handed down to it.
Saints general manager Mickey Loomis has been suspended for the first eight regular-season games of the 2012 season, while the club has also been fined $500,000 (£315,000) and ordered to forfeit their selections in the second round of the 2012 and 2013 NFL drafts.
A club statement read: "To our fans, the NFL and the rest of our league, we offer our sincere apology and take full responsibility for these serious violations.
"There is no place for bounties in our league and we reiterate our pledge that this will never happen again."
Saints quarterback Drew Brees Tweeted: "I am speechless. Sean Payton is a great man, coach, and mentor. The best there is. I need to hear an explanation for this punishment."
The club maintained a "pool" of $50,000 (£31,500), which saw "bounties" being placed on the heads of star players including all-time passing leader Brett Favre and fellow quarterback Kurt Warner.
The NFL said as many as 27 defensive players were involved, the practice peaking in the 2009-10 season, which culminated in the Saints winning the Super Bowl.
Williams left the Saints to take up a similar position with St Louis Rams in January.
The discipline for individual players involved the programme is still under review with the NFL Players' Association and will be addressed at a later date.