Peyton Manning 'excited' after completing Denver Broncos move
Last updated on .From the section American football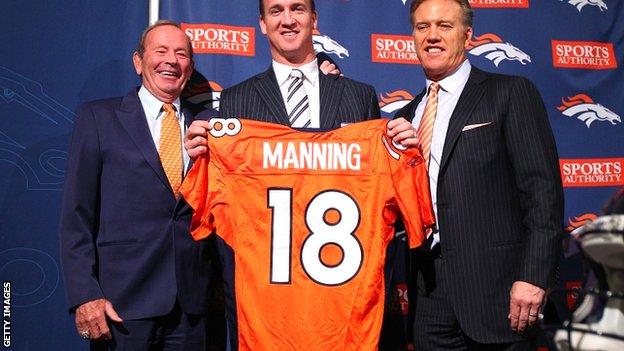 Legendary National Football League quarterback Peyton Manning has completed his move to Denver Broncos.
The NFL's only four-time Most Valuable Player, who is 36 on Saturday, will receive $40m over the next two years if he passes a medical test in March 2013.
"I'm very excited to begin the next chapter of my playing career," he said.
"This truly is a special football environment, and I'm glad to be a part of it. I'll do whatever I can to help this franchise win another Super Bowl."
Manning, who missed the entire 2011 season due to a neck injury that required surgery, was released by Indianapolis Colts on 7 March after 14 years with the team, during which he won the Super Bowl.
There is thought to be an injury stipulation in his contract, however, outlining that should Manning injure his neck in 2013, the Broncos can void the deal at that point, and that 2014 would not be guaranteed.
Broncos owner Pat Bowlen has no reservations about the potential his new signing brings, given that Manning ranks third on the all-time list with 54,828 passing yards and has thrown 399 touchdowns.
"Peyton gives us another chance to win another world championship," Bowlen insisted.
Executive Vice President of Football Operations John Elway added: "Adding a player of his calibre immediately improves our team. I believe he has many good years left as an elite quarterback."
Manning, who held aloft a brand new orange number 18 Broncos jersey, admitted he was not yet fully fit following his serious injury but added: "Could I play a game this Sunday? Yeah."
Following the capture of Manning the Broncos immediately traded quarterback Tim Tebow to the New York Jets.
Tebow was told on Monday he could be traded and Elway said: "I'm sure he was disappointed.
"He didn't come out and say he was disappointed. I think it was a typical Tim Tebow response in the fact that he was very positive, and he said, 'Well, we're talking about Peyton Manning, and I understand exactly what you're doing."'