NFL draft 2012: Why Andrew Luck is the best prospect for 30 years
By Ian Shoesmith
BBC Sport
Last updated on .From the section American football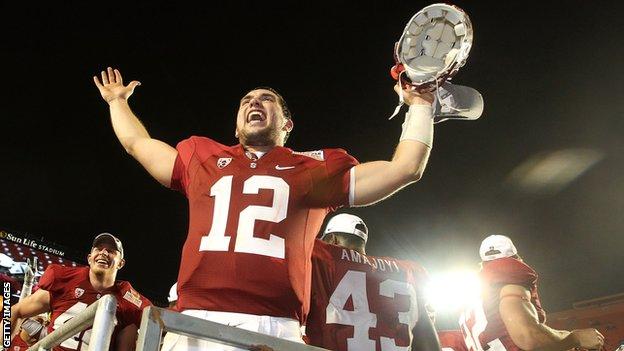 The big kick-off is still months away, but the new NFL season officially starts in New York on Thursday with the glitz, glamour and tension that is the annual draft.
The whole event dominates the US media and is like a souped-up version of English football's transfer deadline day, with a bit of real-life fantasy football thrown in for good measure. After weeks of speculation, gossip and bar-room arguments, the 32 teams will finally select the cream of the crop from the ultra-competitive college game.
They will do so having gone to extraordinary lengths to find out everything about their potential new players.
Former NFL executive Michael Lombardi, who worked on many drafts, says assessing a prospect's character is as important as assessing their physical ability.
"It's much like a private detective," Lombardi told BBC Sport. "The best way to collect information on someone is when they don't think they are being watched.
"You always get somebody's best behaviour when they know they are being watched. But if you can go out there and see them when they don't think they are being observed then things are better."
The 2012 edition of the draft is full of intrigue, not least because of the hype surrounding a young quarterback described as being the best prospect for nearly 30 years.
What's more, Andrew Luck - who spent a good part of his childhood in London - will be stepping into the shoes of one of the sport's all-time greats, Peyton Manning, when he signs for the Indianapolis Colts.
The NFL believes one of its strengths is that teams are equally matched and to give things a nudge in the right direction, the draft is set up so that the worst teams from the previous season can select the best young players.
This year it is the Colts who will benefit. After being one of the most successful clubs in recent years, they were without the talismanic Manning - who has since signed for the Denver Broncos - for the whole 2011 campaign, and finished with only two wins from their 16 games.
But with no promotion or relegation in the NFL, it was not the end of the world for Colts fans because they knew that they would be getting, in Luck, a talent hailed as the best young quarterback since John Elway burst onto the scene for Denver in 1983.
So no pressure to succeed then for the 22-year-old, who spent three happy years at school in London when his father, Oliver, ran the NFL's European office.
Luck Sr was a decent quarterback himself, playing for the Houston Oilers before Hall of Famer Warren Moon took his job.
"Back when I played in the early to mid-1980s there was an adage that 'we'll draft a quarterback and give him four to five years to sit and learn'!" he told BBC Sport.
"That's unheard of in today's world - very often they are expected to step right in and play."
Oliver Luck says his son will really notice the step up in class from college to the professional game, with faster, stronger opponents and more complex defences to contend with.
"The third difference is the emotional transition you have to make. You are a professional now, not an amateur and you are expected to behave with honour off and on the field - I don't expect Andrew to have a problem with that."
Just how tough will it be for him to follow Manning?
Luck admitted: "I would argue that Peyton is irreplaceable.
"In my mind he is certainly in the top 10 quarterbacks - and maybe in the top-five - of all time. Is there pressure on Andrew? Absolutely, but there is pressure on every starting quarterback in the NFL."
When it comes to judging a player, Lombardi is up there, having worked for bosses including Bill Walsh at the San Francisco 49ers, Bill Belichick during his time in Cleveland, and the legendary late owner of the Oakland Raiders, Al Davis.
Now a broadcaster and writer for nfl.com, Lombardi thinks Luck can deal with the weight of expectation. "College kids are used to playing in front of 80-90,000 people, often in stadiums bigger than in the NFL," he explained.
"Luck is a very good athlete, he runs extremely well and has a great sense of timing in the passing game. He's got a great ability to read and react and he's very smart.
"He can handle a multitude of things at the line of scrimmage which puts you in the right play at the right time."
Luck is certainly very bright. Last spring, many expected him to leave Stanford a year early to seek his fortune in the NFL, but he opted instead to finish his studies and learn more about the game at amateur level.
His proud father said: "He will walk away this spring with a degree from the school of engineering. He realises that even if he has a 15-year career in the NFL there is a long life after that and it's good to have a college degree from a prestigious university."
Even so, Oliver Luck knows his son will face a baptism of fire, not least from opponents jealous of his expected $20m (£12.4m), four-year contract.
"I'm sure he will get a couple of TV highlight-worthy 'Welcome to the NFL' hits - every rookie gets at least one or two of those!"
And Lombardi offered the following advice: "What he needs to do is just be himself. He's always going to be measured and it's never going to be good enough.
"It's like the son of a great dad - you have to carve out your own niche and instead of trying to beat your dad you embrace it and move forward. That's what Andrew Luck needs to do, and feel a lot better about it."
Live coverage of the 2012 NFL Draft will be on BBC 5 live sports extra from midnight BST on Thursday. Listen to the BBC Radio 5 live podcast.