Cornish Sharks beat Gloucester Centurions 36-8
Last updated on .From the section American football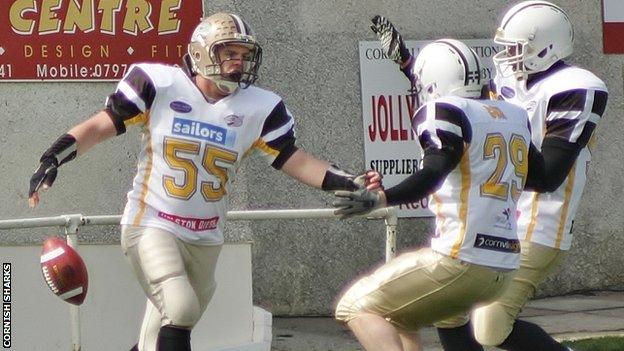 Cornish Sharks won their first match at their new home at Mount Wise as they beat Gloucester Centurions 36-8.
Matt Cross opened the scoring for the Sharks before Gloucester quarter-back Chris Taylor levelled the scores with their only touchdown of the game.
Perran Andrews and tight-end Pete Williams scored to make it 18-8 at the break after a Gloucester safety.
A 30-yard running touchdown from Ronan O'Neill, as well as scores from Dave Krien and Rob McIntyre sealed the win.
Sharks head coach Brian Smallworth hailed his side's defence after they shut out their opponents in the second half.
"It was a great team effort on both sides of the ball," he told BBC Radio Cornwall.
"Defence is going to win us the championship, it's going to get us there and the offence is just going to score points."