Offensive line pleases Cornish Sharks boss Smallworth
Last updated on .From the section American football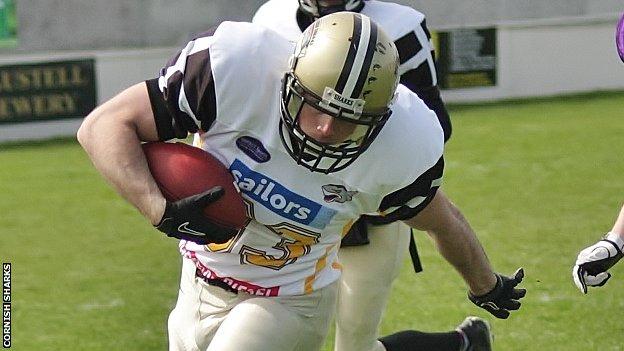 Cornish Sharks boss Brian Smallworth has praised his side's offensive line after their 40-14 win over Gloucester Centurions.
The victory means the Sharks are now top of the Division Two West National League table ahead of the visit of Bournemouth Bobcats in a fortnight.
"The offensive line were knocking them around like rag-dolls out there," Smallworth told BBC Radio Cornwall.
"The defence played really well and the offence yet again performed."
The Sharks now get ready for their second clash with Bournemouth, after losing 6-2 to them in their opening game of the season.
"That will give us some idea of where we're going to be in the play-offs," Smallworth added.
"You start looking a straight away. They beat us 6-2 at their place, we need to beat them at our place, because we've got them again, just as we've got the Centurions again."