Cornish Sharks lose 7-6 to Bournemouth Bobcats
Last updated on .From the section American football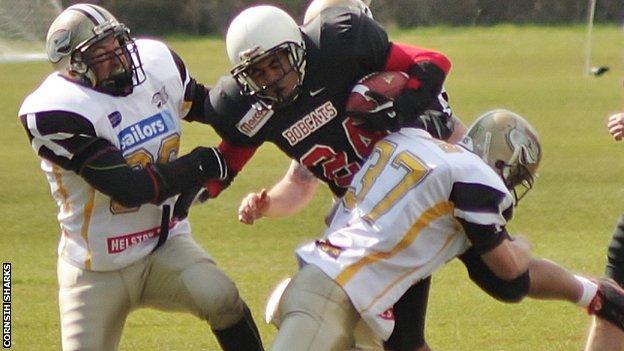 Cornish Sharks head coach Brian Smallworth says his side will recover after losing 7-6 to Bournemouth Bobcats in division two south west of the national American football league.
The Sharks got a touchdown back as Adam Kevern ran in from 10 yards.
But the decision to go for a two-point conversion was a costly one as they missed it and lost 7-6.
"They'll bounce back," Smallworth told BBC Radio Cornwall.
"Next time we play them down here we'll score a few more points and they won't score on us," he added.
The defeat was the second low-scoring loss for the Sharks to Bournemouth this season after they went down 6-2 in Dorset last month.