Cornish Sharks beat league leaders Oxford Saints 16-0
Last updated on .From the section American football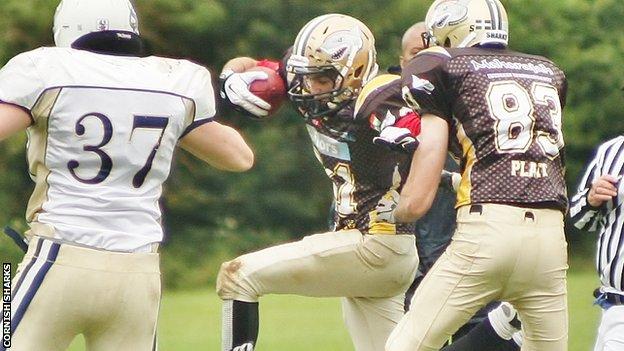 Cornish Sharks' play-off destiny is back in their own hands after a 16-0 win over league leaders Oxford Saints.
Running-back Lee Ambridge opened the scoring at the end of the first quarter and Dave Kriehn added a field goal in the second period.
Ambridge had a third-quarter touchdown disallowed before quarter-back Richard Atkinson sneaked in from a yard out to seal the game in the fourth period.
"The boys ground it out," head coach Brian Smallworth told BBC Cornwall.
"We controlled the ball, controlled the clock and controlled our destiny."
The win keeps the Sharks second in the British American Football National League's Division Two West and the club know a win over Bournemouth Bobcats in their final match will secure them a play-off place.
"We still need to beat Bournemouth at home which will be the game of the season," Smallworth said.
"Oxford had a great crowd and we silenced them from the work go and played really well.
"We'll play well against the Bobcats and I expect us to beat them, we know what the Bobcats have got and they're nothing special."