Cornish Sharks wait for play-off appeal result
Last updated on .From the section American football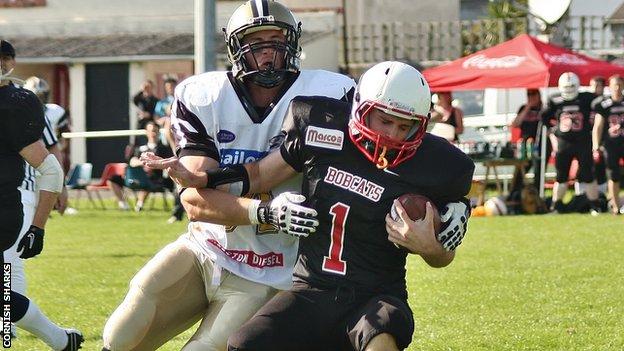 The Cornish Sharks are appealing a decision which will see them miss out on the end-of-season play-offs.
The BAFA League claim the Sharks forfeited a match at Oxford Saints earlier in the season and are therefore not eligible for the play-offs.
The ruling comes after the Sharks beat Bournemouth Bobcats 17-0 on Saturday to clinch second place in the National League's Division Two West.
"I am hoping to hear in the next week or so," said boss Brian Smallworth.
If the Sharks are successful they will face the Peterborough Saxons in the opening round of the play-offs.
A statement on the BAFA website reads: "It has been brought to our attention that Cornish Sharks' forfeit against Oxford on 3 June rules the Sharks out of the play-offs. Oxford and Bournemouth are therefore confirmed as the qualifiers."
Section 5.3 of the BAFA League rules state: "Teams may not cancel fixtures except in circumstances beyond their control and reasonably unavoidable."
But the Cornish Sharks dispute that they cancelled the game and have lodged a 25-page appeal.
Dave Kriehn's field goal gave the Sharks a 3-0 lead at half-time against Bournemouth before Robbie MacIntyre scored a 60-yard touchdown and Adam Kevern ran in a 32-yard score.