Cornish Sharks play-off ban appeal succeeds
Last updated on .From the section American football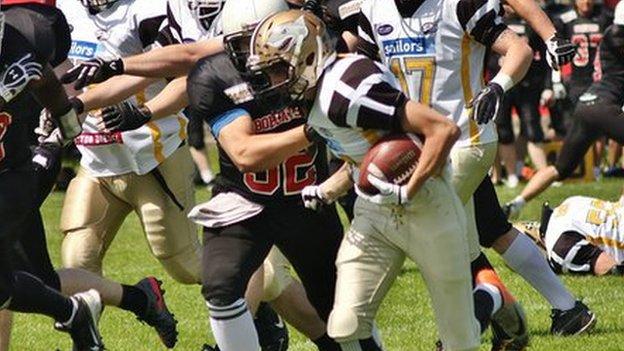 Cornish Sharks have been successful in their appeal against being barred from the end-of-season play-offs.
They will now face Peterborough Saxons in the quarter-finals of the British American Football National League's Division Two play-offs.
Coach Brian Smallworth told BBC Cornwall. his side were now totally focused on beating Peterborough.
"They're a good team, they're quite quick," said Smallworth. "We're a good defence, last time we played them was in the play-offs a few years ago and we won with three seconds left.
"This isn't going to be a high-scoring game but I think we may come away with a bit of a shock.
"We've trained as if we were going to be in the play-offs, we've done our homework and morale in the team is sky high.
"We go in as underdogs and no-one gives us a chance, so there's no pressure on us, the pressure's all on Peterborough."
If the Sharks go through they could face Oxford in the semi-finals next week.