San Francisco 49ers to meet Jacksonville Jaguars at Wembley
Last updated on .From the section American football25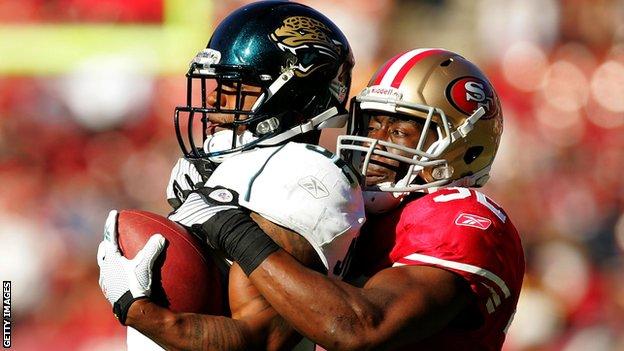 The Jacksonville Jaguars will meet the San Francisco 49ers in next year's NFL International Series game at Wembley.
As part of the NFL's expansion plans, the Jaguars will play one "home" game at Wembley each year from 2013-16.
This season's Wembley game matches up the St Louis Rams and New England Patriots on 28 October.
Next year's game, on 27 October, will be the seventh regular-season game to be played in London.
"By committing to play a regular-season home game in London in each of the next four years, the Jaguars will play a major role in helping grow our sport in the UK and beyond," said NFL commissioner Roger Goodell.
The Rams orginally agreed to host games at Wembley each year between 2012 and 2014, but later decided not to play in London after October.
This paved the way for the Jaguars, whose owner Shad Khan said: "This is a unique and important opportunity for the Jaguars franchise, as well as for our fans and community.
"To share this stage in our first year at Wembley with a rising power like the 49ers will bring additional attention and respect to what we're trying to achieve as a franchise. We can't wait to see our global vision for the Jaguars become reality next season."
The chief executive of the 49ers, Jed York, added: "Our 2010 experience in London was tremendous. The atmosphere at Wembley Stadium on game day was electric. The ability for us to share 49ers football with our faithful fans internationally is a treat for everyone in our organisation."
The NFL said the International Series has helped increase interest in American football in the UK.
It said television audiences for Sunday games and the Super Bowl were up 154% and 74% respectively since 2006.