Wembley to stage two regular-season NFL matches
Last updated on .From the section American football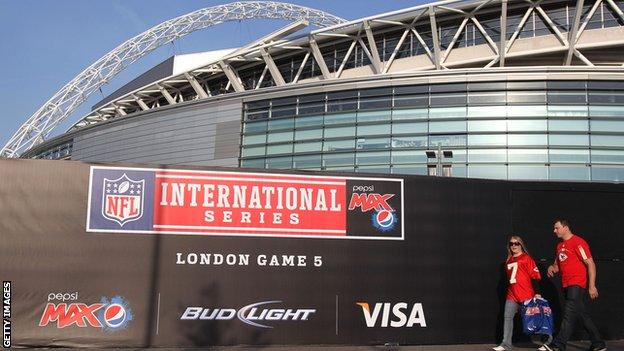 The National Football League has revealed plans to stage two matches in a season in the UK for the first time.
It will again be the venue on Sunday 29 September next year, when the Minnesota Vikings play the Pittsburgh Steelers.
This is in addition to the previously announced game at Wembley set for 27 October, 2013 when the Jacksonville Jaguars face the San Francisco 49ers.
"Since we started playing regular-season games in London five years ago, we have heard very clearly from our UK fans - they want more football," said NFL commissioner Roger Goodell.
"We are excited to play two games in London and take this next step in the growth of our game. We believe more football will lead to more fans."
Minnesota will be the 'home' side against the Steelers, their first match in the UK since a 1983 pre-season game at Wembley.
Earlier this year, the Jacksonville Jaguars opened a new chapter for the NFL in the UK, making a multi-year commitment to International Series games in London.
They will play one regular-season home game in the UK in 2013, 2014, 2015 and 2016, all at Wembley.