Adrian Peterson of Minnesota Vikings misses out on NFL record
Last updated on .From the section American football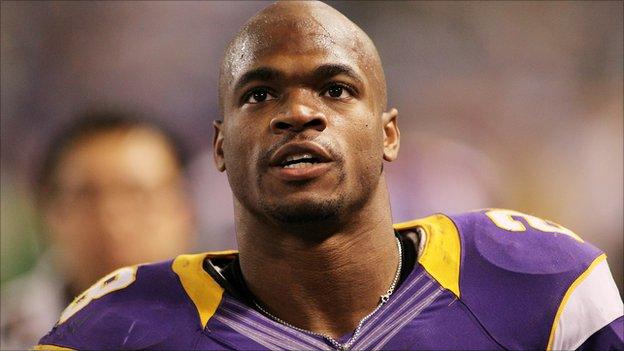 Minnesota Vikings running back Adrian Peterson missed out on breaking one of the NFL's most durable records but helped his side into the play offs.
Peterson, 27, fell eight short of Eric Dickerson's NFL record for most rushing yards in a season (2,105 for the then Los Angeles Rams in 1984).
"It's a bittersweet feeling inside," said Peterson, who finished with 2,097.
"Ultimately we accomplished the ultimate goal of getting a win and taking our team into the play offs."
Peterson suffered a potentially career-ending knee injury a year ago but has returned to the type of form that led to him being voted to the Pro Bowl in each of his first four seasons.
"The first thing that came to my mind when I heard that I was nine yards short was 'It is what it is. It wasn't meant to happen'," he said,
"Not to say it doesn't hurt, because it does."
Peterson became only the seventh player in league history to surpass the 2,000-yard mark in a season.
His final contribution on Sunday was a 26-yard burst to the Green Bay 11-yard line with three seconds remaining.
From there, Blair Walsh kicked a 29-yard field goal to break a 34-34 tie and seal the victory over the Packers.
The Vikings claimed the sixth play off seed in the National Football Conference (NFC) and they will meet the Packers again next week in Green Bay in the first round.
Full list of NFL play off qualifiers: Denver Broncos, New England Patriots, Houston Texans, Baltimore Ravens, Indianapolis Colts, Cincinnati Bengals, Atlanta Falcons, San Francisco 49ers, Green Bay Packers, Washington Redskins, Seattle Seahawks, Minnesota Vikings.