Super Bowl XLVII: 49ers face Ravens in a family affair
By Haydn Parry
BBC Sport in New Orleans
Last updated on .From the section American football45
For the first time in Super Bowl history, a pair of brothers will battle against each other in New Orleans on Sunday for the biggest prize in American football.
Talk of the 'Harbowl', as it is being referred to here, dominated the main media day when hundreds of journalists from around the world congregated in large scrums around the stars and subjected them to questions ranging from the insightful to the ridiculous.
But while it is usually the players who receive the most attention, the crowds around Ravens quarterback Joe Flacco and his 49ers counterpart Colin Kaepernick were dwarfed by the throng around their respective head coaches.
John Harbaugh, 15 months older than Jim, was in an affable mood and more than happy to field questions about their fraternal rivalry.
"When we were in the backyard [as children], we did go against each other one-on-one 'in the Super Bowl' - but we were playing, we weren't coaching! I think we always thought we'd be playing in one.
"Jim got way closer than I did but we both fell short. But they always say if you can't do it as a player, do it as a coach and so this is our chance."
The Baltimore coach was quick to praise his brother's achievement in reaching the Super Bowl after narrowly losing out in last season's NFC Championship game.
"He's built a team that looks like him - they reflect his personality. Whoever wins the game, I'm going to tell him I'm proud of him, I love him and I'll see him next time."
Jim Harbaugh was also probed about the brotherly match-up but gave away far less to the press and even tersely batted away any suggestion that John might be better placed in a psychological war between them.
"I am worried about a lot of things but I haven't noticed he has any clairvoyant powers," the 49ers coach retorted.
His biggest call this season came in the middle of the regular season when he opted to replace his efficient but unspectacular quarterback Alex Smith with the more dynamic but inexperienced Colin Kaepernick.
Only two years into his NFL career, Kaepernick has vindicated his head coach's bold decision. But while he has coped admirably with the pressures on the field, Kaepernick seemed a little uncomfortable in the spotlight compared with a very relaxed Flacco.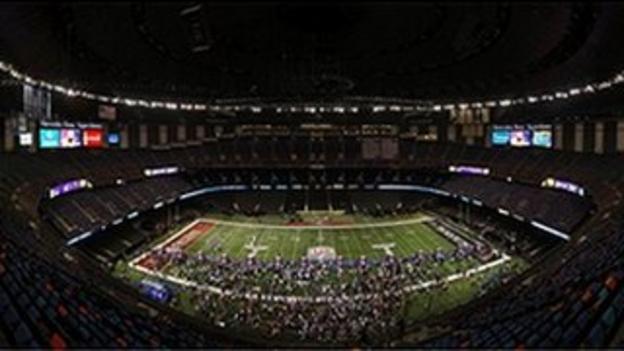 The 49ers man mostly gave short answers but, tellingly, acknowledged the significance of the fact Jim Harbaugh was once an NFL quarterback.
"He knows what you are looking at, and he knows what you are going through," said Kaepernick. "It makes it easier for him to relate [to me] and I think both of us are very competitive. We want to do whatever it takes to win, so that is where the emotion and the excitement comes from."
But if Kaepernick has any trouble sleeping this week, no doubt the Ravens' veteran linebacker Ray Lewis will be lurking somewhere in his nightmares.
His exit from the game on its biggest stage is another intriguing element in the mix this year. Lewis is calling time on his NFL career after 17 stellar but punishing seasons.
A torn triceps saw him miss a large chunk of the regular season but his return has coincided with stunning performances by his side in the play-offs, despatching the Indianapolis Colts, Denver Broncos and New England Patriots en route to New Orleans.
Many Baltimore players spoke about winning a second Super Bowl as a perfect send-off for their defensive leader.
Lewis himself appeared relaxed and ready for battle. "When you talk about leaving a legacy it's all about what your peers speak about you," he said.
"Your greatest leaders are also your greatest servants, and that's what this team is all about. My whole legacy from day one has been about grabbing someone and taking them to the next level."