Super Bowl XLVII: Can Baltimore Ravens' defence stop the San Francisco 49ers?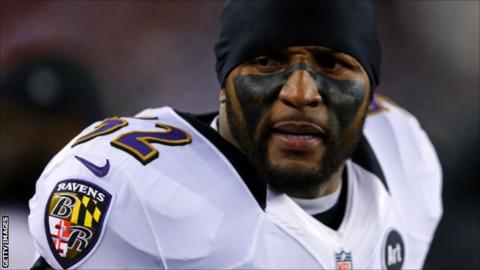 Super Bowl XLVII
Venue:

Mercedes-Benz Superdome, New Orleans, Louisiana

Date:

Sunday 3 February 2013

Kick-off:

23:30 GMT

Coverage:

Live coverage on BBC Two from 23:00 GMT & 5 live sports extra from 22:00 GMT, switching to 5 live just before kick-off. Live text commentary on BBC Sport website from 22:00 GMT plus full report and reaction. Get involved using #bbcsuperbowl
Super Bowl XLVII has many intriguing subplots, including the fact that two brothers are going head-to-head as coaches for the first time as Jim Harbaugh's San Francisco 49ers take on older brother John Harbaugh's Baltimore Ravens.
But the key to the game may well lie with a quarterback at the start of his NFL career and a grizzled veteran playing in his final game.
In only his 10th start for San Francisco, Colin Kaepernick will lead his 49ers offence with a heavy weight of expectation on his young shoulders.
San Francisco have a perfect record in the NFL's big game, winning all five of their previous Super Bowl appearances.
If he can complete what San Francisco fans are calling "the quest for six", he will join fellow quarterbacks Joe Montana and Steve Young in 49ers folklore.
Coach Jim Harbaugh made a bold decision midway through the season when he decided to replace Alex Smith - a perfectly solid if not spectacular quarterback - with Kaepernick.
Many observers questioned that call, but with the 49ers reaching their first Super Bowl in 18 years, Harbaugh has been fully vindicated.
"When I first started starting, I was just trying to do well and make sure we were winning games," the unassuming Kaepernick said this week.
"Things have gone right while we have been playing. We're here."
One of the key battles will be between Kaepernick's dynamic San Francisco offence and the Baltimore Ravens defence.
San Francisco's Harbaugh has kept his opponents guessing this season with his versatile offence.
One option has been to adopt the 'Pistol' formation, a shallower version of the 'Shotgun', designed to take advantage of Kaepernick's impressive ability to run with the ball when required.
Look out for 'zone read' plays, where Kaepernick will look to hand off to running back Frank Gore, described by Ravens opposite number Ray Rice as a 'bull' this week. But Kaepernick may opt to keep the ball himself and scramble into the gap vacated by any duped linebacker bearing down on Gore.
As Kaepernick showed in the NFC Championship game against the Falcons, he also has what the pundits refer to as a 'laser arm' and, in his receiving corps, has the weapons to hurt Baltimore through the air.
Traditionally strong when they don't have the ball, the Ravens defence have only ranked in the middle of the league for the regular season and, on paper, might struggle to contain the 49ers.
Yet the stats don't tell the whole story. The return of Ravens leader Ray Lewis from injury has coincided with an impressive revival. The veteran of 17 seasons has long said that Sunday's game will be his last.
Baltimore's path to New Orleans was tough but they have battled past fancied teams - Indianapolis Colts, Denver Broncos and New England Patriots - and so they truly deserve to be in the big game.
Three of their fearsome starting linebackers - Lewis, Terrell Suggs and Dannell Ellerbe - have more than 30 years' NFL experience between them and if anyone can second-guess Jim Harbaugh's strategy, then surely it is his older brother John, who will be pacing the Ravens' sideline.
Lewis, with typical conviction, insists that the Ravens are a team of destiny: "When this game ends, we will be victorious, and everybody believes the same thing.
"That's what's been our road, no matter who's been up, who's been down, who's been hurt, who's been injured.
"We found a way to pick each other up. The team who wins the Super Bowl is the team who pulls it together chemistry-wise, and everybody believes in one thing. This team is focused on one goal."
Meanwhile, in Joe Flacco, Baltimore have a quarterback who has steered a quiet, steady course both through the play-offs and the hype of the build-up week.
With the US media obsessed by 'Harbowl', Kaepernick's emergence and Lewis's imminent exit, Flacco has had very little attention to deal with - and it's often overlooked that he is the only starting quarterback in NFL history to get to the play-offs in his first five seasons and win a game in each.
Don't rule out the possibility that, amongst the many plotlines this week, Flacco emerges as the main man on Sunday.