Breaking the NFL's gender barrier
By Ian Shoesmith
BBC Sport
Last updated on .From the section American football137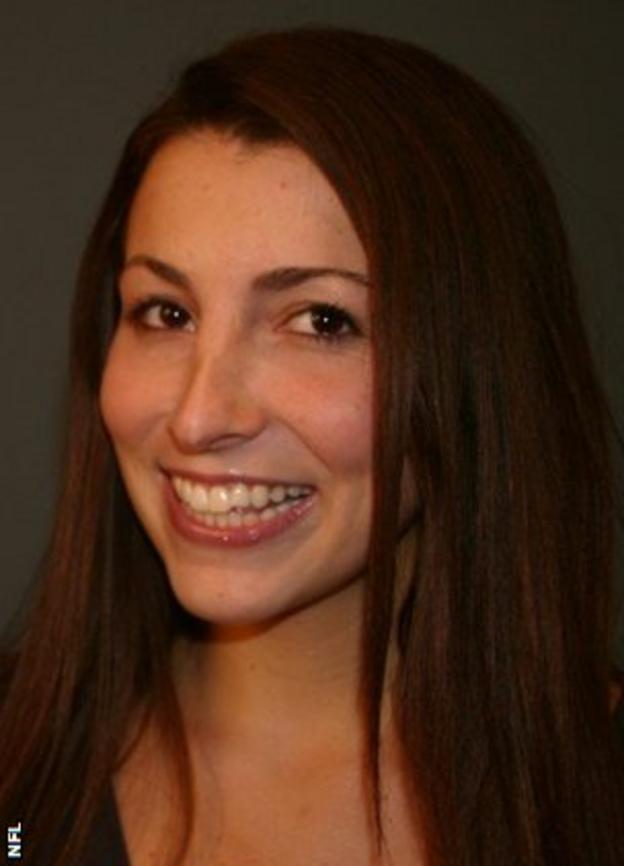 Lauren Silberman will make sporting history this weekend when she becomes the first woman to attempt to play American football professionally.
Alongside hundreds of male hopefuls, the 28-year-old New Yorker will take part in one of 10 regional trials - known as "combines" - in an effort to catch the eye of dozens of scouts working for the National Football League's 32 clubs.
This is not the X Factor - to be allowed to participate, you have to demonstrate that you have the fitness and potential to at least be in with a shout of earning a professional contract.
American football is known for its brutality, speed and strength, so given the physiological differences between men and women, how can Silberman hope to compete?
Like many before her, Silberman - who will be trying out as a kicker - comes to the sport via soccer. Having played the round ball version of football for her whole life, including while at university in Wisconsin, she should certainly have a good ball-striking technique.
Kickers are rarely called upon to tackle an opponent - the biggest demand placed on them is to deal with the pressure of attempting field goals when the game is on the line.
Happily, thanks to her professional life, she is an expert on the psychological side of elite sport in general and, in particular, on how athletes prepare mentally.
At the Massachusetts Institute of Technology, Silberman wrote a master's degree thesis about how sportsmen and women can use video games to analyse and enhance their performance, and she has used that knowledge to start up her own consultancy business aimed at helping athletes do just that.
So what does she make of the fact that she is creating history?
"I was not aware that I was the first female registrant," she told NFL.com. "I was actually hoping that the 2012 historical milestone rule, to allow women to play, would prompt more women to attend try-outs this year.
"But for me, what's important is to finally have a chance to fulfil my dreams by trying out to play in the world's most competitive football league."
Silberman was referring to a decision made by the NFL in December 2011 to remove any gender barrier.
"Times are changing," explained the league's commissioner, Roger Goodell, at the time.
"The military is about to allow women into combat. If women are going to be fighting on the battlefield, how can we stop them from participating in football? It's not fair."
The odds are likely to be against her making it in the NFL, though. For every success story like Greg "Legatron" Zuerlein - who impressed at last year's regional combines and has just enjoyed an excellent rookie season with the St Louis Rams - there are countless others who fail.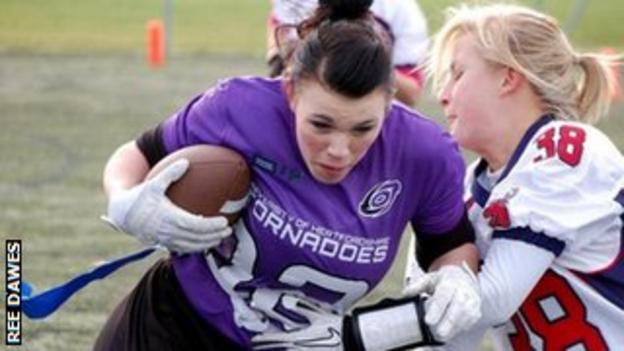 One considerable disadvantage for Silberman will be her lack of experience at college level.
While university sports are a low-key affair in Britain, perhaps with the exception of the Boat Race and rugby union's Varsity Match, in the United States they are a big deal.
Big college games are played out before huge crowds and are often screened on national television.
Jim Messenger, head coach of the fledgling British women's team, said: "It would be amazing if this actually occurs and it is not just about a publicity stunt, but it's very difficult to break through in the men's game if you've not been through a major college programme.
"The skill level may be there but have you ever done it in front of 100,000 people? It's such a high-pressure role."
In principle, though, he is certainly not opposed to Silberman trying her luck.
"We do have some girls who have played in the university league in Britain, and they've done quite well. Certainly at Hertfordshire University a couple of women are better than some of the men."
Messenger said the women's game, while becoming more popular, was still very much in its infancy in the United Kingdom.
"We're growing from a very small base - we have about 50 players but a number of teams are starting up all the time.
"There are four main university teams playing full-contact football - Hertfordshire, who are the national champions, Portsmouth, Southampton and Royal Holloway in London - but at least a couple more, including Warwick and Coventry, have 'flag' teams [where players are "tackled" by opponents ripping a flag from their waistband, rather than wrestled to the ground]."
While not being ready to play in Finland at this summer's World Championships - which features six countries - Messenger's side will take on the hosts, and maybe other emerging nations, in a parallel five-a-side event.
One of his players, Beccy Small, is inspired by Silberman's exploits.
The 26-year-old wide receiver and cornerback, who started playing for the University of Hertfordshire women's team 18 months ago, was first drawn into the sport while watching her male friends play.
She said: "I like the physical side of the game. Sometimes when we play against the men they hold back a little bit on us but I appreciate it when they go all out against us."
As for those who might mock women like Silberman's dreams, Small said: "I don't think gender should come into it. If she's good enough to play, she's good enough. I have a lot of respect for her and really hopes she makes it.
"I hope that even her attending the combine will inspire more women into playing the sport, especially in the UK."
That's partly what motivates Silberman, who said: "I realise I may not make an NFL team this year, but I'm getting to meet interesting people and perfect my technique. Regardless of the outcome of the try-out, I hope there is a way I can contribute and strengthen the league one day.
"I'm going to be doing a lot of practising [before the try-out] but I'm really seeking to start nailing those 60-yard [field-goal kicks - close to the NFL record]."
And, were she to be signed by an NFL club, how would she feel about coming up against 6ft 6in, 320lb opponents?
"Hopefully I'll have a good [offensive] line that won't let anyone through to tackle me."