Lauren Silberman: Female kicker's NFL trial cut short by injury
Last updated on .From the section American football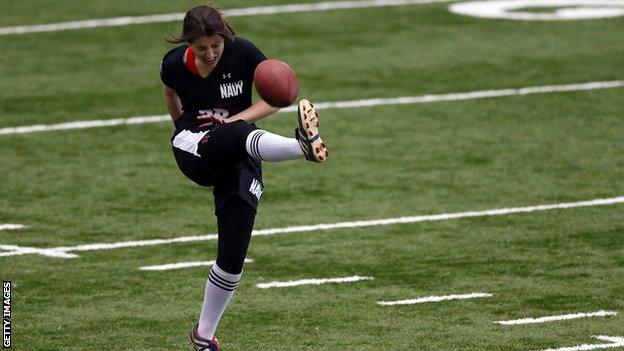 The first woman to take part in NFL trials managed only two kicks before aggravating a thigh injury, apparently ending her hopes of earning a professional contract.
Lauren Silberman, 28, took part in one of 10 regional "combines" in New Jersey on Sunday.
She pulled up after managing 19 yards with her first kick-off and then kicked 13 yards with her second effort.
Silberman then asked to speak to a trainer and did not continue.
In December 2011, the barriers that prevented women from attempting to play in the NFL were removed.
"I've always been an athlete, and I've always been a gamer," she said after her withdrawal. "When I had the opportunity to be in the NFL, one of the world's most competitive leagues, I absolutely had to take the chance."
She suffered a quadriceps injury while preparing for the trials during the week and said: "I tried staying off it and waited for today. I didn't even take kicks in warm-ups, and, it's pretty hard to know that you'll be in pain and I wanted to work through it and I certainly tried to, but I just couldn't do it today.
"I would certainly be very, very excited and happy if I had the opportunity to try again, but it's not up to me. It's up to the scouts."