Lauren Silberman's NFL trial cut short by injury
Last updated on .From the section American football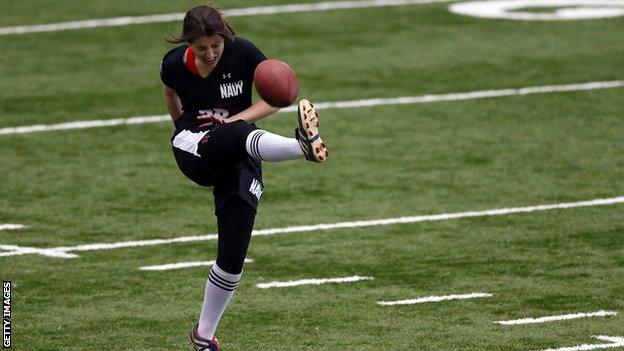 The first woman ever to take part in trials for the National Football League has not ruled out another attempt after injury restricted her performance.
Lauren Silberman, 28, took part in one of 10 regional "combines" in New Jersey but failed to overcome a thigh problem.
"I absolutely had to take the chance," said the kicker from New York City.
"I would certainly be very, very excited and happy if I had the opportunity to try again, but it's not up to me. It's up to the scouts."
Competing alongside 36 other kickers - all male - Silberman only managed two kicks before aggravating a right quadriceps injury which she sustained while preparing for Sunday's event, one of 10 regional trials to be held for aspiring American footballers.
Before a large crowd of reporters and television crews, she pulled up after only managing 19 yards with her first kick.
After her second attempt went 13 yards, she asked to speak to a trainer before withdrawing from the process.
While Silberman had never kicked a football in a competitive game, the NFL said she passed the entry criteria because of her background as a college soccer player.
She said: "I tried staying off [my injured leg] and waited for today. I didn't even take kicks in warm-ups. It's pretty hard to know that you'll be in pain and I wanted to work through it and I certainly tried to, but I just couldn't do it today."
Rules banning women from the sport, known for its brutal hits and tough tackling, were lifted in December 2011.
The NFL's commissioner, Roger Goodell, said at the time: "Times are changing. The military is about to allow women into combat. If women are going to be fighting on the battlefield, how can we stop them from participating in football? It's not fair."
Of being a pioneer for female athletes, Silberman said: "I'm just really happy I had this amazing experience. I might be the first woman trying out for the NFL, but I certainly hope I'm not the last."