Lawrence Okoye: Discus thrower signs for San Francisco 49ers
Last updated on .From the section American football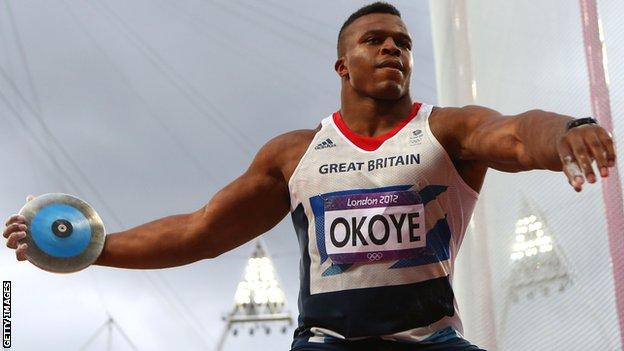 British Olympic discus thrower Lawrence Okoye has signed for the San Francisco 49ers as an undrafted free agent.
"It's going to be a baptism of fire but I don't set limits on myself," the 21-year-old said.
Manchester-born Menelik Watson was drafted by Oakland in the second round while Crawley's Tom Wort has joined the Tennessee Titans, also as a free agent.
Okoye, who stands at 6ft 6in and weighs 21st, turned down offers to play rugby union and was also accepted to study law at Oxford University.
He initially said he intended to carry on with the discus and aim for the Rio Olympics in 2016.
But he subsequently decided to switch to American football and impressed scouts at the Super Regional Combine despite having never played the sport.
Okoye was not selected on the final day of the NFL draft, but tweeted: "Proud to announce I will be signing with the @49ers!"
He said later: "If I said when I was 18 that I was going to be in an Olympic final in two years I don't think anyone would have said I was serious.
"I realise it's going to be a ridiculously tough process. I will have to work even harder than everyone else, I have a lot to catch up on.
"I know as much as I can without having played it but I am still an outsider looking in."
49ers head coach Jim Harbaugh said: "He's just an Adonis. Just a great physical specimen of a man. Our creator created a beautiful man."
According to reports, Okoye will sign a three-year deal with the 49ers and will play in the defensive line.
Former Florida State University star Watson, 24, who has only been playing for two years, was picked up by Oakland Raiders as the 10th player in the second round, the 42nd overall.
Wort, a 22-year-old linebacker who moved to the United States aged 14, had been touted as a possible third-round pick on the final day but like Okoye, has been picked up as an undrafted free agent.