Miami Dolphins' Los Angeles move played down by NFL commissioner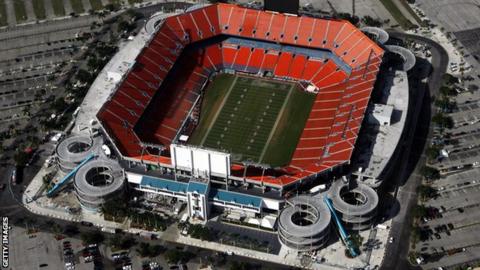 The commissioner of the NFL, Roger Goodell, has played down speculation linking the Miami Dolphins with a possible move to Los Angeles.
Florida politicians last week rejected the Dolphins' appeal for taxpayers to partially meet the $350m (£227m) cost of redeveloping their Sun Life stadium.
Los Angeles is seeking an NFL franchise for the first time since the mid-1990s, when the Rams and Raiders moved away.
But Goodell said: "We want to see the Dolphins stay in Miami."
Last September, Los Angeles City Council approved plans for the construction of a $1.2bn (£780m) stadium in downtown Los Angeles.
But it will only be built once a team commits to playing in it.
Owners are allowed to move their teams as they see fit, so long as they avoid relocating too close to another of the league's 32 teams.
The NFL has long been keen to bring American football back to the Californian city, which is the second largest in the United States, and several clubs have been linked with relocating there.
Responding to the refusal of state funding for the upgrading of Sun Life stadium, a decision which will likely prevent Miami from hosting any Super Bowl for the forseeable future, Dolphins chief executive Mike Dee was quoted by ESPN as saying that while he "wouldn't want to prognosticate what the future holds, it's clearly bleak".
He added: "We cannot do this [the stadium renovations] without a private-public partnership. At this time we have no intention of investing more."
In an interview with NFL.com, Goodell said: "We want to see the Dolphins stay in a facility that will allow them to compete, and to bring in other big events, including Super Bowls.
"And that takes work, it takes investment, and [owner] Steve Ross was doing the investing and was really the guy who was putting his heart and soul into this and his passion into this."
He added that the proposal the Dolphins and local officials had worked on was "very intelligent and very thoughtful."