Cornish Sharks beat Farnham Knights 19-18 in opening game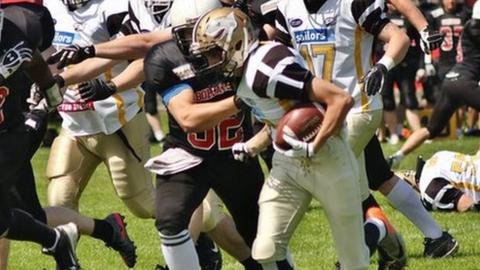 Cornish Sharks head coach Brian Smallworth has praised the "phenomenal" attitude of his players after they beat Farnham Knights 19-18 in their opening game of the season.
The Sharks had not played a single pre-season game in the run-up to their first match in National Division South.
"Silly mistakes nearly cost us the game but that's because we've not had a pre-season," Smallworth told BBC Cornwall.
"The attitude of the players this year has been phenomenal," he added.
Dave Kriehn's touchdown gave the Sharks a 6-0 lead at half time, but Marcus Wyatt's 70-yard kick-off return levelled the scores at 6-6 straight from the restart.
Adam Kevern's fourth-quarter touchdown put Sharks 12-6 up, but Scott Monahan went over soon after to level once more.
Kevern got a second towards the end to make it 19-12 and although Farnham scored an even later touchdown, they failed with potentially match-winning two-point conversion.
Smallworth's squad has also had little time to train together, so he was particularly happy with how his side fought in the second half.
"We've given them the playbooks and gone through bits and pieces with them and almost fed them by spoon and it's worked.
"These boys are getting better and better, three of my offensive linemen didn't play today and are ready to sign up and that's good news for the Sharks."