Cornish Sharks lose 37-3 to Bristol Apache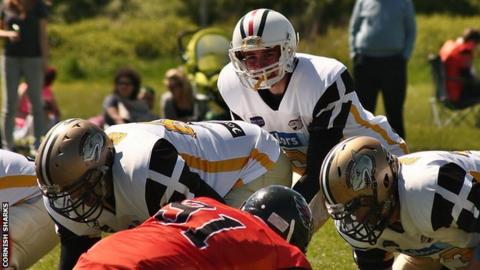 Cornish Sharks suffered a second-half meltdown as they lost 37-3 at Bristol Apache in the British American Football League's National South.
Sharks led 3-0 at half time thanks to Dave Kriehn's 35-yard field goal.
But the Sharks conceded 30 points in the third quarter as Bristol took advantage of their deep squad, scoring four touchdowns, two from interceptions, and a safety.
The Sharks conceded one more touchdown in the final quarter.
"Whilst I am disappointed at the result, I am far from disappointed at my players," said Sharks head coach Brian Smallworth.
"Having watched the Bristol team warm up and having coached them previously to a national championship, I noted that many of my old players had come out of retirement to play on the day bringing with them vast amounts of experience at premiership and international level."
The Sharks had a number of players missing owing to the Bank Holiday weekend and Smallworth says he is proud of the young side who took to the field.
"I am proud of all the players that went to Bristol - they should hold their heads high as they played their hearts out and no-one gave up.
"We look forward to the return match in Newquay on the 8 June."
The defeat leaves the Sharks mid-table in National Division South of the British American Football League, having