NFL International Series: Roger Goodell seeks to conquer Britain
Last updated on .From the section American football135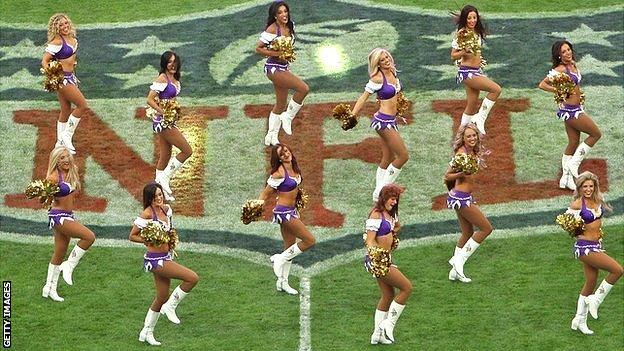 Six weeks ago, America's most-watched television programme was the Sunday night National Football League game between the Seattle Seahawks and the San Francisco 49ers.
No surprise there - almost every week, the sport boasts the top two slots.
But what was amazing about the 49ers' visit to the Seahawks was that the second most popular broadcast that week was the hour-long weather delay shortly after the game started. More than 17 million Americans tuned in to watch nothing happening.
To be in a US city that has an NFL team in the days before or after a game is like being stuck in a sports bar. The game dominates conversation in the same way a heatwave does in Britain.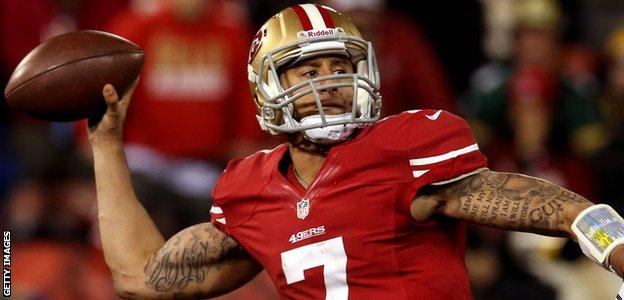 Once upon time it was baseball, or even boxing, that did that. Not anymore. Despite being a dreadful game, Monday's clash between the New York Giants and the Minnesota Vikings beat the first game of the World Series - featuring two of baseball's most popular teams in the Boston Red Sox and the St Louis Cardinals - in the ratings.
"You can't talk about the decline of baseball without also talking about the parallel rise of the NFL," wrote the author and journalist Jonathan Mahler in an opinion piece for The New York Times last month.
Mahler listed half a dozen reasons why baseball has never been healthier, before pointing out the unavoidable truth that compared to the leylandii-like growth of the NFL, the sport has become "irrelevant".
The NFL is where America comes to gamble, pretends to be a coach, looks for metaphors on the state of the nation, finds its heroes and sells everything from luxury cars to washing powder. It is the biggest player in the world's biggest market, and it knows it.
So why has the NFL just flown the 49ers 5,000 miles to play a game against Florida's Jacksonville Jaguars at Wembley? Weren't two other teams just here? Are we being wooed?
It certainly felt that way on Thursday, when the man often described as most powerful person in sport by the US media had lunch with the Sports Journalists' Association in London.
Whether we would give NFL commissioner Roger Goodell the same accolade is open for debate, but there is no question that his personal authority over his sport goes beyond any equivalent figure in British football.
The 54-year-old is here to oversee the eighth game the NFL has played at Wembley since 2007.
Earlier this week, he revealed who will be playing in the ninth, 10th and 11th "International Series" games next year. They are coming like the proverbial London bus now.
When you only get eight guaranteed home games in an NFL season it used to require a lot of Goodell's famous charm to persuade a team to sacrifice one for the greater good of the sport's global profile.
Even then the league would have to recompense the team for loss of earnings, as well as cover both teams' travel expenses - all of which adds up to what an NFL spokesman said was a "seven-figure loss" on each game.
But Goodell's quiet chats with team owners have become a lot easier as those who have made the exchange trip have reported back to class. He gets more volunteers than he needs these days.
"Initially, it was difficult to get teams to do it," he explained.
"There were risks involved. One, you were taking away a home game, which the fans didn't like. And two, the coaches would worry about the possible disruption.
"But every team that has come over has had a great experience. And the fans might not like losing a home game, but they understand that in some ways it's very good for their communities."
Fans in Jacksonville might have something to say about that, particularly as their team's owner Shahid Khan seems to be thinking about making London a more permanent base, but the wider NFL "community" probably can appreciate the fact that TV ratings in the UK have almost doubled since the London games started, and sales of official merchandise here are booming. After all, NFL teams share almost all revenues equally.
Speculation that London might be about to get a team for keeps has been growing ever since the Giants and Miami Dolphins drew 81,000 to Wembley six years ago, but it has bumped up a notch or two ever since Khan bought the Premier League's Fulham.
Having already committed the Jags to the International Series for four years, many Jags fans have wondered whether Khan is breaking it to them gently. This sense of watching a loved one slip away has not been helped by the team's form in recent years. They come into Sunday's game with no wins in seven.
But Khan, a self-made billionaire born in Pakistan, told BBC London this week that the UK's growing army of NFL fans should not get too excited just yet.
"Quite frankly, (talk of a London franchise) is very premature," he said. "There is, in all candour, a novelty aspect to it.
"Over the next couple of years we'll know whether there's a demand for a team that's playing more than a game or two here."
That comment chimed with what Goodell said on Thursday. But he admitted the league was considering how a London-based franchise might work.
The latest thinking is that the team would still have a base on America's east coast - just five hours behind the UK- and would come to London for its games. This would make it easier for the franchise to recruit players and prepare for the short but intense season.
Would that "half here" approach be enough to rally British sports fans, though?
Attendance figures at Wembley since 2007 would suggest there is a big enough base to sustain a team, if only because British fans would enjoy watching the London Whatevers play the team they really support.
But history tells us anything other than the real thing would be a gamble.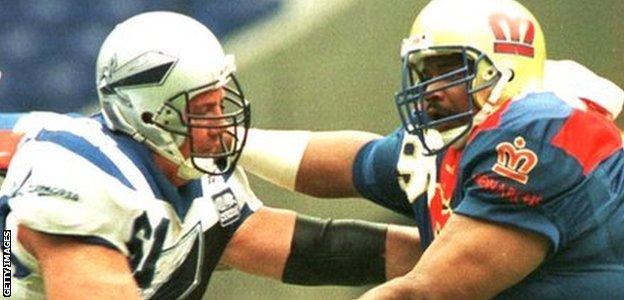 The London Monarchs were founding members of an NFL-backed "development league" called the World League of American Football, and more than 60,000 fans watched them beat the Barcelona Dragons in the inaugural World Bowl at Wembley in 1991.
The following season would not be so successful for the Monarchs, or the league, but after a three-year break they were back in 1995, this time joined by the Scottish Claymores in the new "NFL Europe".
That competition was equally ill-starred and the nomadic Monarchs were dethroned in 1998. The Claymores kept swinging until 2004, but by the time the NFL pulled the plug on NFL Europe it was made up of five German franchises and one on life support in Amsterdam. It was also losing £20m a season.
Shutting the league down was one of the first big calls Goodell made as commissioner. He realised a second-rate product was never going to break the sport outside the States.
The NFL could not, unlike the Premier League, rely on foreign audiences emerging from a large population of participants. The sport is growing at the grassroots level in the UK, but from a very low base, and it has simply never caught on in most countries.
"Our game isn't played on a global basis, like basketball or soccer is - we have to do it differently," Goodell admitted.
"We are trying to globalise our game, but we're not trying to tackle the whole world at once.
"We want to create a success in London first, and then we'll look at taking games to Frankfurt, Paris, Moscow, Sydney and so on. That would be a nice problem to have."
And that is the fundamental point. Goodell knows a saturated market when he sees one: he has helped create it.
What was once all about "Any Given Sunday" is now televised from Thursday to Monday - for the first time US pundits are wondering whether you can have too much of a good thing. And baseball provides a perfect example of what happens when a business thinks it has got it all worked out.
The rise of "soccer" (more Premier League than MLS), declining numbers of kids playing the game in the US and a slight dip in attendances do not add up to anything approaching a crossroads moment for the NFL, but Goodell is too smart to ignore warnings.
What he has got, though, is still the perfect entertainment for contemporary American tastes, and contemporary American tastes have often become global staples.
"Part of it is that in our game every team has hope," said Goodell, when asked how the NFL had conquered America.
"The hope is a great thing for us. Take the Kansas City Chiefs, they had two wins last season, but now they're 7-0, and that gives people hope. They want to be a part of it.
"But the other thing is that everything is an event. Sunday's game is an event here, it's an event in the US and it's an event around the world. And we want to make each of our events bigger and better - look at the annual draft (of college players), it is now bigger than most sports' play-offs.
"I think the media helps us, because there are more and more ways for fans to follow the game. I like to say that there's never been a better time to be a fan."