Super Bowl XLVIII: Remembering the NFL's original Ice Bowl
Last updated on .From the section American football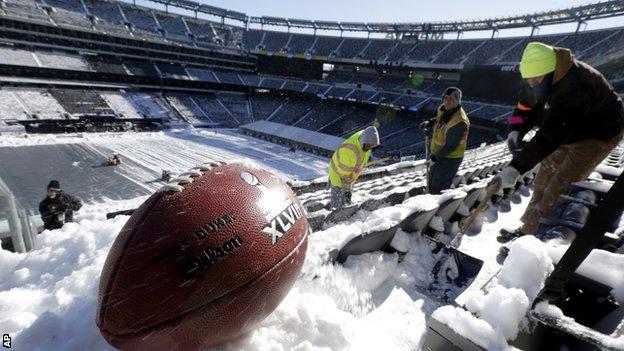 Perhaps mindful of the A-Listers who will be in attendance, the Super Bowl has always been played either in the warmer states or inside giant domed stadiums.
The decision to award Sunday's Super Bowl XLVIII to the huge Metlife Stadium just outside New York City is undoubtedly something of a gamble for the National Football League.
While acknowledging it was a "bold" decision, NFL commissioner Roger Goodell said: "This is obviously innovative and it's something new, but it's also unique because it's New York.
"This is a stage. Every city can't host a Super Bowl, because of the sheer enormity of this event.
"And it's not just a football game. We have a week full of events, we probably have well over 150,000 people coming in to the New York region for this event.
"Will we look at other Super Bowls in cold-weather sites? I think we'll wait and make that evaluation later."
With at least 160 million Americans expected to be among an estimated global audience approaching one billion watching the Seattle Seahawks take on the Denver Broncos, the stakes are certainly high.
Goodell will almost certainly be praying for a mild day in the Big Apple, where temperatures typically hover around 0C (32F) at the start of February.
There are contingency plans in place to move the 18:25 local time (23:25 GMT) kick-off time or even the day of the Super Bowl should Jack Frost be in a particularly vindictive mood.
But Super Bowl host committee president Alfred Kelly points out that snow is something to which New Yorkers are well-accustomed.
"Football is meant to be played in whatever elements are thrown its way," he said. "But we would like it to be a decently pleasant day, with maybe a nip in the air - but not frigid. And maybe just a bit of snow for romance."
But New York-based Dave Klein, who is one of only four sportswriters to have witnessed all 47 Super Bowls, has strongly criticised the NFL's decision to bring its biggest occasion to his home town.
"I think putting the game here is ludicrous," he said.
"I think the recent 'unspoken policy' of putting a Super Bowl in a stadium that's been recently built was the major reason for this. But there are new stadia in New England, Buffalo and Washington DC and those places will never get one.
"This is for the Mara family [owners of the New York Giants] and the New York-New Jersey area - and it's putting the Big Apple on worldwide television. But it's a joke."
The NFL could certainly be forgiven for wanting to avoid a repeat of the conditions experienced during one of the play-off games which culminate in the Super Bowl.
Earlier this month, the San Francisco 49ers travelled to the northern state of Wisconsin for their wildcard game against the Green Bay Packers.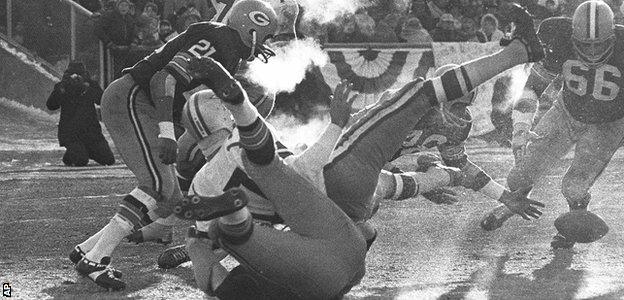 Amidst one of the coldest snaps in US history, the mercury was as low as -15C (5F) at kick-off, or -23C (-9F) once you factored in the wind chill.
It conjured up memories of one of the most dramatic encounters ever seen in the NFL, a game which has gone down in sporting folklore as the Ice Bowl.
Jerry Kramer played for the Packers against the Dallas Cowboys on that freezing day at Lambeau Field, when wind-chill adjusted temperatures plummeted to -49C (-57F).
The stakes were high - the winners would go on to play in Super Bowl II; the losers' season would be over - as both sides faced up to the elements as well as each other.
Offensive lineman Kramer said: "We were trying to win our third consecutive title - something that had never been achieved before - but we were up against the Dallas Cowboys and their famous 'Doomsday Defence'.
"Coach Vince Lombardi [after whom the Super Bowl trophy is named] had a lot of character and qualities that got us through those sorts of games.
"One of the players on our team came up to me before kick-off and said, 'Are you going to wear gloves?'
"I thought about it and wondered if I might look a bit of a sissy if I go out there wearing gloves.
"Then I thought some more. 'Who the hell am I kidding? If it's fifty below zero out there, of course I'm going to wear gloves!'"
Legendary CBS commentator Frank Gifford famously remarked: "I'm now going to take a bite of my coffee" as the officials, unable to use their whistles for fear of them freezing to their lips, were instead forced to shout their decisions.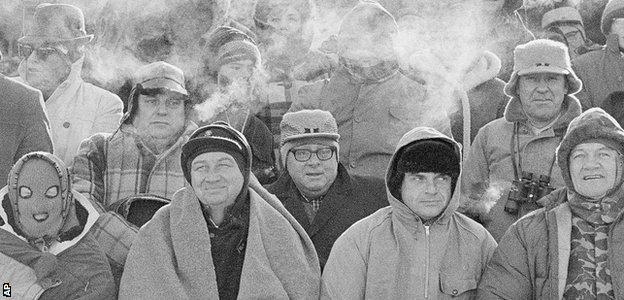 "I decided that I could either worry about the cold or worry about my opponent," said Kramer. "So I just put the cold out of my mind and I focused on the Dallas Cowboys. To a certain degree we were probably better prepared to do that, being a cold-weather team, unlike Dallas."
Green Bay ultimately prevailed 21-17 thanks to right guard Kramer and centre Ken Bowman creating enough space for quarterback Bart Starr to cross the goal-line as time expired.
"When Bart fell into that endzone, it was the most beautiful thing I've ever seen," Kramer recalls.
Would the NFL kill for such a dramatic ending to Super Bowl XLVIII? Undoubtedly.
Would the NFL's suits be keen on its showpiece end-of-season spectacular being forever remembered as Ice Bowl II? Maybe.
There's no such thing as bad publicity - politicians and the stars of sport, cinema and the music industry will be in the corporate boxes, after all.