Super Bowl: Can Seattle freeze out Peyton Manning's Denver?
By Ian Shoesmith
BBC Sport
Last updated on .From the section American football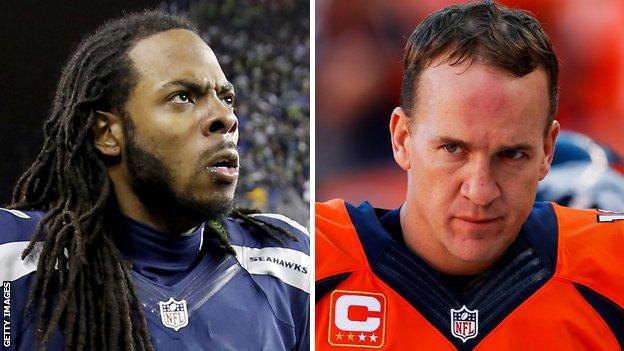 A brilliant offence taking on the league's toughest defence; a veteran old-school quarterback seeking to round off a record-breaking season against one of the poster boys of a new generation; a team with a storied past clashing with one desperate to write its way into the history books.
Sunday's Super Bowl between the Denver Broncos and the Seattle Seahawks features many contrasts, but it is the theatre in which the drama will unfold which has dominated much of the build-up to the biggest event in the US sporting calendar.
Never before has the Super Bowl been staged in an outdoor stadium in one of America's colder states.
But in New York, the concrete jungle where dreams are made, it really does seem there is nothing you cannot do if you are prepared to build and finance an 82,500-capacity stadium costing $1.6bn (£967m).
The Mara family, which owns the New York Giants, agreed to replace the ageing Meadowlands Stadium in neighbouring New Jersey which is shared by the New York Jets.
While other cities which have pleased the National Football League by building new stadiums have been repaid in the form of being awarded a Super Bowl, they have not had to contend with sub-zero temperatures.
"Putting the game here is ludicrous," says New Yorker Dave Klein, one of four reporters to have covered all 47 previous Super Bowls.
"I think the recent 'unspoken policy' of putting a Super Bowl in a stadium that's been recently built was the major reason for this. But there are new stadia in New England, Buffalo and Washington DC and those places will never get one.
"This is for the Mara family and the New York-New Jersey area - and it's putting the 'Big Apple' on worldwide television. But it's a joke."
Whether the NFL, whose boss acknowledges he has taken a gamble by allowing the Super Bowl to be hosted in a bitterly cold uncovered stadium, ever repeats its experiment will largely be down to what happens on the field.
Much of that could be down to Denver quarterback Peyton Manning, who aims to be the first starting quarterback to win the Super Bowl with two different teams.
After 13 stellar seasons with the Indianapolis Colts - with whom he won Super Bowl XLI in 2007 - he missed the entire 2011 campaign with a neck injury, leading many to question whether he would ever play again.
But he returned to lead the Broncos to the play-offs last season and completed 55 touchdown passes during the 2013 regular season for 5,477 yards - both NFL records.
Asked about his achievements and whether he is considering retirement, Manning said: "I've been asked about my legacy since I was 25 years old.
"I'm not sure you can have a legacy when you are 25 years old, or even 37."
The contrast between Manning and Seattle counterpart Russell Wilson could not be more stark.
While the former usually drops back into the "pocket" behind his offensive line before passing the ball, the latter is one of a new breed of quarterbacks who are just as adept at running the ball.
Despite being ranked as only the 16th-best passer in the NFL, Wilson is the perfect fit for the Seahawks, whose natural game is far more conservative than the Broncos.
They rely heavily on running back Marshawn 'Beast Mode' Lynch, whose 15 rushing touchdowns top the league, and their hard-hitting number-one ranked defence, which has been dubbed 'The Legion of Boom'.
That defence could be crucial, as Denver's veteran quarterback Manning has a fine array of receivers to choose from, including Demaryius Thomas, Eric Decker and Wes Welker.
Along with Manning, Seahawks cornerback Richard Sherman, who leads the league with eight interceptions, has been at the centre of the feeding frenzy that is Super Bowl media week.
In the wake of his game-sealing interception against San Francisco in the NFC Championship game two weeks ago, he launched a wide-eyed rant at one of his opponents which instantly went viral on social media.
Sherman knows he is in for a tougher battle against Denver.
"We want to go against the team that has thrown the most touchdowns, the best offence. It's going to be a battle of wills," he said.
"They had a heck of a season. We've got our own accolades and awards. None of it means anything when you get between those lines."
The Broncos are favourites at the bookies, but the weather could yet play a part.
Manning, so long insulated against cold weather by the roof at his former side Indianapolis, has won only one of nine games when the temperature at kick-off has been below -1C (30F).
The forecast for Sunday? Around 0C (32F).
Everything is in the balance.