Michael Sam: Is the NFL ready for an openly gay player?
By Flinder Boyd
North American sports writer
Last updated on .From the section American football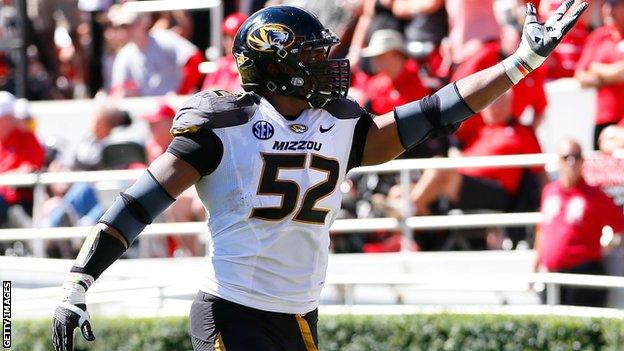 In the same week that President Obama and the United States justice department granted same-sex couples in all 50 states "full and equal recognition, to the greatest extent possible under the law", an NFL hopeful sat down with the New York Times for a landmark interview.
"I'm Michael Sam, I'm a football player, and I'm gay."
Other professional athletes in America have publicly revealed their homosexuality in the past, most notably Jason Collins, a 12-year NBA veteran, and Robbie Rogers, a former US men's national soccer team player, but this concise public disclosure from a university player felt entirely different.
Football is the most quintessential of American sports, played on a 120-yard field by warriors sheathed in armour, clamouring for ownership of a few inches, then a few yards.
In it are players such as Sam, a defensive lineman whose strength and fearlessness are the sort of characteristics that drive the NFL toward its annual $9.5bn profit.
In short, masculinity is seen to be as much a part of football as, say, the coach, or a uniform or any other essential aspect of the game.
Reactions since Sam's announcement have been many and varied.
But for NFL commissioner Roger Goodell, the revelation is both an opportunity and a headache, given the public relations nightmares to dog the sport in the last 18 months.
From the bitter public courtroom battle against former players suffering the cognitive effects of years of pounding, to the New Orleans Saints bounty scandal and then last year's locker room bullying fiasco in Miami, the NFL has been haemorrhaging goodwill.
With Sam's interview, it has been given a chance to restore its reputation, by carrying the civil rights banner.
Those around the NFL have been anticipating this moment for quite some time.
Brendon Ayanbadejo, a former Super Bowl winner with the Baltimore Ravens who retired last year, spent the latter period of his career tirelessly campaigning for lesbian, gay, bisexual and transgender (LGBT) rights and seeking to promote an environment in which a player would feel comfortable to come out.
The NFL has also taken long strides towards improving its non-discrimination policy by explicitly attempting to combat homophobia, while Goodell has talked extensively about the strong bond he has with his gay brother, Michael.
On the other hand, there seems to be a pervasive fear about openly gay players.
During last season's pre-draft combine, some teams were, against NFL policy, asking potential players to state their sexuality.
And just last week, Jonathan Vilma, a well-respected linebacker, said the following in an interview about homophobia: "Imagine if I'm taking a shower… and he looks at me. How am I supposed to respond?"
A number of journalists and activists have likened Sam's announcement to Jackie Robinson breaking baseball's colour barrier some 67 years ago.
Robinson, however, was 28 years old, in the prime of his career and is widely considered one of the best baseball players of his generation, if not ever.
No-one yet knows how good Sam will be.
At 6ft 2in and 260 pounds, the All-American defensive end from University of Missouri is considered a "tweener" for his position.
In other words, not quite big enough to wrestle through massive offensive linemen and not quite quick enough to drop back into a more traditional linebacker position.
Nevertheless, scouts rave about his "high motor" and "leadership abilities".
Before his announcement, Sam was ranked by CBS Sports as the 90th best prospect in the country, or a potential third-round draft pick. Not a star, at least not initially, but a valuable contributor.
But an unnamed scout who spoke to Sports Illustrated, said Sam's stats of 11.5 sacks, which led the Southeastern conference (SEC), the best in the country, were "inflated" because he merely feasted off the worst opponents.
Ultimately, we will learn more about Sam's stock at the scouting combine at the end of the month in Indianapolis, where every player's performance will be dissected.
In the meantime, we are left to wonder why he made his announcement now, rather than waiting until after the combine.
According to his publicist, Howard Bragman, Sam's decision was effectively made for him.
Since last year, Sam's team-mates have known he was gay.
He announced it during a team-building exercise in which coaches asked players to mention something about themselves that no-one else knew.
In Sam's case, however, many players already did know. He had not explicitly mentioned it to the entire team yet, but he had a boyfriend and they were often seen together, sometimes hand-in-hand.
Many NFL teams had become aware of the rumours too, and, rather than break the story after the combine on 26 February, as was initially planned, Sam, along with Bragman and his agents, decided it was best to reveal all now in order to, as the player puts it, "own my own truth".
After the interview, NFL executives were asked how the news would affect Sam's potential value.
Within a few hours, a Sports Illustrated article quoting eight unnamed sources all estimated a "significant drop in Sam's draft stock".
"I don't think the NFL is ready… it would chemically unbalance a locker room," said one personnel assistant.
Another said it was "not a smart move" because it "legitimately affects future earnings".
Another called Sam's sexuality a "distraction".
The problem, of course, is that for all the NFL's recent attempts at inclusiveness, including the new "Excellence in Workplace Conduct" programme, it is still dominated by an archaic concept of masculinity.
Just last year, Chris Kluwe, the long-time punter of the Minnesota Vikings, claimed the team released him after he campaigned for same-sex marriage and equality.
Kluwe, who is heterosexual, accused special teams coach Mike Priefer of homophobic comments, calling him a "bigot". But while the NFL investigated, the Vikings rehired Priefer.
Yet the statistics on the field suggest executives wary of gay footballers are out of touch. With Sam playing, the University of Missouri football team were not only able to "cope" with an openly gay player in the locker room but thrived, winning 12 of their 14 games and claiming victory in the Cotton Bowl - one of the most important games in college football.
They proved that sexuality ultimately had little negative affect on team chemistry and perhaps ensured the players grew even closer as a result of Sam's presence in the squad.
Sam told the New York Times that he never had a problem with his team-mates, although he admits that some of his coaches "were worried".
Perhaps the only noticeable change brought about by Sam's sexuality centred on the language of the locker room and the end of one flippant but derogatory term aimed at homosexuals.
Sam, afforded the opportunity to be treated as an equal, had to earn respect on the field the old-fashioned way, through hard work and performance.
A product of the tiny Texan city of Hitchcock, boasting around a population of 7,000, Sam had a tumultuous childhood.
He has lost three of his siblings - one by gunshot wound, one at birth and another has been missing for 16 years - while two other brothers are in jail.
Known as a boisterous character with a big heart, he arrived at Missouri as a lowly two-star recruit. That rating - which was out of a maximum of five - was assigned to him under the star ranking system used to classify the top high school and college players.
Through his determination and an unrelenting work rate, he climbed up the pecking order to help lead the Tigers defence and earning SEC co-defensive player of the year.
It would be hard to know exactly the reasons for a slip in Sam's stock, should it happen.
But at this point, Sam and Goodell need each other.
For a chance to succeed, Sam needs Goodell to close the door on the bigots. But Goodell needs Sam just as much in order to restore the image of the NFL, especially if the league wants to continue to be America's game.
Ayanbadejo wrote on Monday that the team who draft Sam must both fit his skill set and provide a welcoming environment.
He named Super Bowl champions Seattle Seahawks, both New York teams - the Giants and Jets - and the Washington Redskins as possible destinations. It is no coincidence that all four are located in liberal and diverse cities.
The New England Patriots owner Robert Kraft has also stated he would be willing to find a spot for Sam, if he fitted into their plans on the field.
So far, the NFL has said all the right things, issuing a statement that claimed to admire "Sam's honesty and courage" and adding that "any player with ability and determination can succeed in the NFL".
The challenge ahead - for both Sam and Goodell - is to prove that true.