Adrian Peterson poised to return for Minnesota Vikings
Last updated on .From the section American football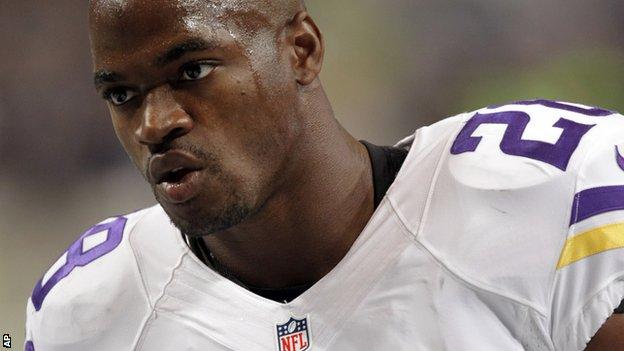 Adrian Peterson has been reinstated by Minnesota Vikings despite the running back facing charges of allegedly hitting his child with a tree branch.
The 29-year-old was arrested last week and released on bail but was left out of a Vikings game on Sunday.
"We believe he deserves to play while the legal process plays out," Vikings general manager Rick Spielman said.
Peterson said he was disciplining his four-year-old and did not intend to injure him.
The incident took place in May 2014 and Peterson could be jailed for two years if found guilty.
Adrian Peterson: Parenting, punishment and race feature
"The recent arrest of NFL running back Adrian Peterson has put a spotlight on corporal punishment of children in the US. At what point does discipline become child abuse?"
Read more
"I have to live with the fact that when I disciplined my son the way I was disciplined as a child, I caused an injury that I never intended or thought would happen," Peterson said in a statement.
"I know that many people disagree with the way I disciplined my child.
"I also understand after meeting with a psychologist that there are other alternative ways of disciplining a child that may be more appropriate."
Peterson missed the Vikings' 30-7 loss to New England Patriots at the weekend but is now available for Sunday's game at New Orleans Saints.
"No one can understand the hurt that I feel for my son and for the harm I caused him," added Peterson, who was the NFL's most valuable player in 2012.
Hotel chain Radisson has suspended its sponsorship of Minnesota Vikings as a result of the charges.
The Peterson controversy is the latest in the NFL and comes after Baltimore Ravens terminated the contract of running back Ray Rice following the release of a video appearing to show him punching his wife.