Adrian Peterson suspended by Vikings amid abuse allegations
Last updated on .From the section American football
Minnesota Vikings running back Adrian Peterson has been suspended from all team activities until his child-abuse case is resolved.
The 29-year-old was arrested last week and released on bail but was left out of the Vikings game on Sunday.
He was reinstated on Tuesday but that decision has now been reversed.
"We made a mistake and we need to get this right. We have decided this is the appropriate course of action," Vikings owners Zygi and Mark Wilf said.
The brothers added: "It is important to always listen to our fans and the community and our sponsors. Our goal is always to make the decision we feel is right for the Minnesota Vikings."
Peterson faces a charge of allegedly hitting his child with a tree branch. He claims he was disciplining his four-year-old and did not intend to injure him.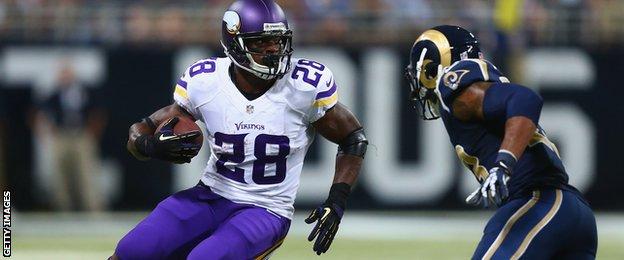 The incident took place in May and the player could be jailed for two years if found guilty.
Peterson was deactivated for last Sunday's 30-7 loss to the New England Patriots but was set to return this Sunday against the New Orleans Saints.
Vikings general manager Rick Spielman said on Tuesday that Peterson "deserves to play while the legal process plays out", but after talks with the NFL the owners have backtracked.
"While we were trying to make a balanced decision yesterday, after further reflection we have concluded that this resolution is best for the Vikings and for Adrian," the statement added.
"We want to be clear: we have a strong stance regarding the protection and welfare of children, and we want to be sure we get this right.
"We will support Adrian during this legal and personal process, but we firmly believe and realise this is the right decision."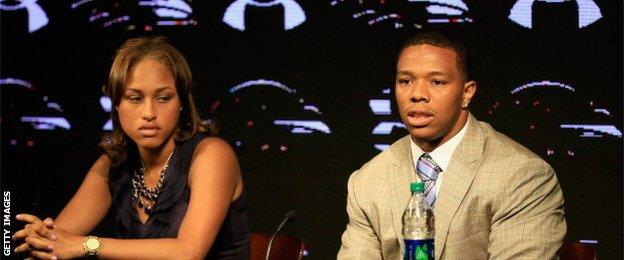 Nike confirmed that they have suspended their contract with Peterson in a statement which said: "Nike in no way condones child abuse or domestic violence of any kind and we have shared our concerns with the NFL."
Hotel chain Radisson suspended its sponsorship of the Vikings as a result of the charges.
The Peterson controversy is the latest in the NFL and comes after Baltimore Ravens terminated the contract of running back Ray Rice following the release of a video appearing to show him punching his wife.
Rice was also given an indefinite suspension by the NFL, but that ruling was appealed by the league's players' union on Tuesday.
The players' union said the action "is to protect the due process rights of all NFL players".