NFL: Menelik Watson says London team would help American football
Last updated on .From the section American football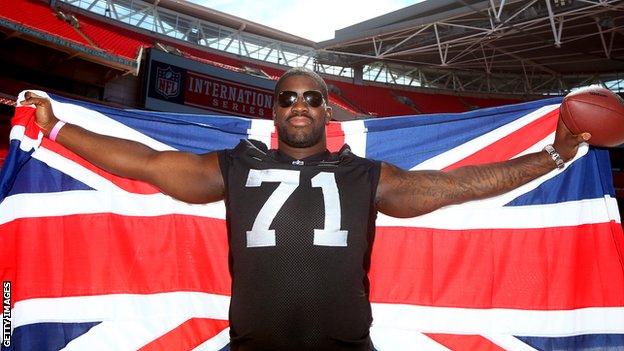 British NFL star Menelik Watson believes a London-based team would be good for American football.
Manchester-born Watson is due to play for Oakland Raiders against Miami Dolphins at Wembley on Sunday.
The idea of London becoming home to a team has been mooted since 2007, when 81,176 watched the Dolphins take on New York Giants at the national stadium.
Watson, 25, said: "I think it's going to happen and that it will be a good thing."
Offensive tackle Watson was drafted by the Raiders in April 2013, joining fellow Briton Jack Crawford as part of the team.
Watson, who is 6ft 5ins and weighs 140kg, believes the sport's popularity will continue to grow in the UK.
NFL at Wembley

2007:

New York Giants 13-10 Miami Dolphins

2011:

Chicago Bears 24-18 Tampa Bay Buccaneers

2008:

San Diego Chargers 32-37 New Orleans Saints

2012:

New England Patriots 45-7 St Louis Rams

2009:

New England Patriots 35-7 Tampa Bay Buccaneers

2013:

Pittsburgh Steelers 27-34 Minnesota Vikings

2010:

Denver Broncos 16-24 San Francisco 49ers

2013:

San Francisco 49ers 42-10 Jacksonville Jaguars
He said: "It's a great sport and there are a lot of opportunities for kids of all sizes. Look at me, I'm 300lbs - I'm not supposed to be able to move.
"The more they keep bringing the games here and the more we Brits make it into the NFL ... there will be a team soon."
Sunday's match will be the teams' fourth of the season. The Dolphins have won one and lost twice, while the Raiders have lost all three of their matches.
Watson, who is a Manchester City supporter, said: "It's going be epic. To have the family there to watch me do what I do and see what all the sacrifices have been made for, it's going to be unbelievable.
"It should be an emotional day but I've got to stay focused on the task, which is the Dolphins."
The match will be the first of three matches at Wembley in 2014.
The Atlanta Falcons take on Detroit Lions on 26 October before the Jacksonville Jaguars meet Dallas Cowboys on 9 November.