John Elway backs NFL players to cope with London-based team

By Richard Conway
BBC Radio 5 live sports news correspondent
Last updated on .From the section American football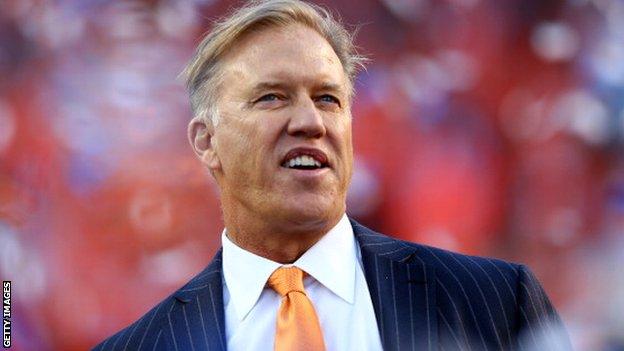 Former Denver Broncos quarterback John Elway has backed NFL players to cope with the demands of playing regularly in London should a team be based there.
Teams who visit London for games currently staged at Wembley are given the following weekend off.
League officials recently admitted that arrangement would not be possible in the event of a permanent London team.
But Elway told BBC Sport: "I don't think that would be an issue. For the most part we'd adjust."
NFL teams have played at least one game at Wembley since 2007 - the most recent a win for Miami Dolphins over the Oakland raiders last month - and this season three games will be played there.
NFL at Wembley

2007: New York Giants 13-10 Miami Dolphins

2013: Pittsburgh Steelers 27-34 Minnesota Vikings

2008: San Diego Chargers 32-37 New Orleans Saints

2013: San Francisco 49ers 42-10 Jacksonville Jaguars

2009: New England Patriots 35-7 Tampa Bay Buccaneers

2014: Miami Dolphins 38-14 Oakland Raiders

2010: Denver Broncos 16-24 San Francisco 49ers

2014: 26 October - Atlanta Falcons v Detroit Lions

2011: Chicago Bears 24-18 Tampa Bay Buccaneers

2014: 9 November - Jacksonville Jaguars v Dallas Cowboys

2012: New England Patriots 45-7 St Louis Rams
Two-time Super Bowl winner Elway believes a British-based franchise is a viable option in the future.
And the 54-year-old, now the Broncos general manager, does not see a problem for players or the NFL fixture list.
He added: "I think everyone in this league is getting used to adjusting.
"We have Monday night games, Sunday night games, Thursday night games - our players do a tremendous job of adjusting."
Elway has welcomed the attention American Football is receiving in the UK and the gradua increase in the number of games in recent years.
"First of all I think it's great we're playing three over there," he said.
"It exposes everyone over there to our game of football, especially regular season games because they count.

"The people get to see what it's all about. I definitely think there's a possibility of some day having an NFL franchise over there."
Football Association and Wembley officials are believed to have made securing a London NFL franchise their number one priority. 
A guarantee of eight regular season games at the national stadium could also potentially provide a sufficient revenue stream to enable the England football team to play some matches in alternative stadiums around the country.
Hear more from John Elway in an exclusive interview on BBC Radio 5 live Sport from 21:00 BST on Wednesday, 15 October. Leading figures from the NFL and a panel of guests will also examine how the sport has increased head coach job opportunities for black and ethnic minority candidates and if similar measures are needed in British football.