NFL: UK government will support plans for London based-team
Last updated on .From the section American football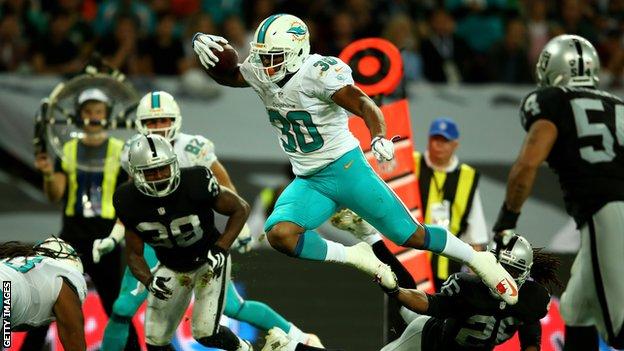 Chancellor George Osborne says the UK government will support plans for a London-based NFL team.
Osborne has held talks with NFL officials and said the idea would be "a huge boost to London".
"I've said to the NFL that anything the government can do to make this happen, we will," he added.
Detroit Lions and Atlanta Falcons will meet on Sunday in the 10th NFL match to be played at Wembley. It will be the second this season after the Dolphins beat Oakland Raiders 38-14 in front of a crowd of 83,436 in September.
The previous nine matches have each attracted attendances of more than 76,000.
Osborne said: "There are 32 teams in America and one of them could be a London team. That's a serious prospect,
"It's not going to happen overnight but over the next few years."
Jacksonville Jaguars - who have committed to playing a game at Wembley each year until 2016 - will meet the Dallas Cowboys at Wembley on 9 November.
NFL games at Wembley

Date

Result

28 Oct 2007

Miami Dolphins 10-13 New York Giants

26 Oct 2008

New Orleans Saints 37-32 San Diego Chargers

25 Oct 2009

Tampa Bay Buccaneers 7-35 New England Patriots

31 Oct 2010

San Francisco 49ers 24-16 Denver Broncos

23 Oct 2011

Tampa Bay Buccaneers 18-24 Chicago Bears

28 Oct 2012

St Louis Rams 7-45 New England Patriots

29 Sept 2013

Minnesota Vikings 34-27 Pittsburgh Steelers

27 Oct 2013

Jacksonville Jaguars 10-42 San Francisco 49ers

28 Sept 2014

Oakland Raiders 14-38 Miami Dolphins

26 Oct 2014

Atlanta Falcons v Detroit Lions

9 Nov 2014

Jacksonville Jaguars v Dallas Cowboys

designated "home" team listed first