NFL confirm another three games held at Wembley in 2015
Last updated on .From the section American football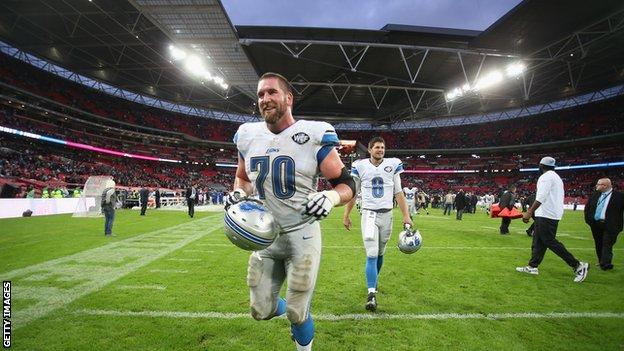 Wembley will host another three NFL games next year as the sport continues to expand its push into the UK market.
It was the second of three matches this season, and NFL UK managing director Alistair Kirkwood told BBC World Service to expect three more in 2015.
"We are going to do three games next year, and looking at staging two games back to back in successive weeks to test this support base," he said.
Good morning America
Normally NFL matches played in London kick off at 6pm but Sunday's 13.30 GMT start meant it was the earliest ever start for a game in NFL history
Fans on American's east coast saw the start at 9.30am and it was even earlier at 6.30am for Pacific coast viewers
The early start meant the match clashed with church services
Reverend Bill Britt from the Peachtree Road United Methodist Church, Atlanta, Georgia organised to
show the match in the church hall between services.
"There are some logistic reasons around the Rugby World Cup that means we won't be going to four or five."
Detroit's Matt Prater kicked a 48-yard field goal in the final seconds to win a thrilling match against Atlanta in front of a sell-out crowd.
The 13:30 GMT kick-off meant it was the earliest start for American viewers in NFL history.
The third of this season's matches between Jacksonville Jaguars and Dallas Cowboys will be played at Wembley on 9 November.