NFL must take lead against abuse - Jackonsville Jaguars owner

By Dan Roan
BBC sports editor
Last updated on .From the section American football
The NFL "has to play a leadership role" when it comes to the issue of domestic abuse, Jacksonville Jaguars owner Shahid Khan has told BBC Sport.
The league has been heavily criticised for its handling of a series of recent assaults involving players.
Ray Rice was handed an indefinite ban when video emerged of him punching his fiancé in the face, while Adrian Peterson has been charged with child abuse.
"These are not things that are unique to the NFL - it reflects society as a whole - but the NFL has to play a leadership role," said Khan, who also owns English football club Fulham.
"NFL is the flag carrier for many, many things in the US."
Khan, a billionaire businessman, revealed that his Jaguars employees would undergo training later this month on various "social issues".
"Whether we like it or not, the NFL is held to a higher standard," he added.
"I think that's a good thing. What the league is doing, the owners are doing, the commissioner is doing is playing a role in really furthering the cause and the awareness of some of these issues."
NFL commissioner Roger Goodell had to apologise for his mistakes when dealing with the abuse case involving former Baltimore Ravens running back Rice.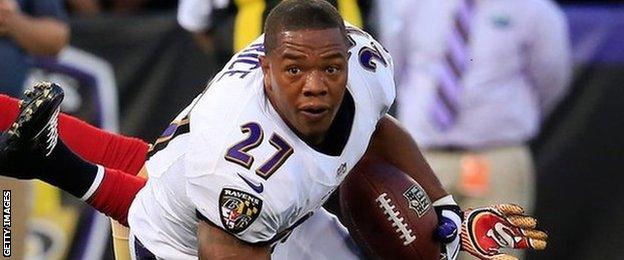 Goodell initially banned the player for two games after video emerged of him punching Janay Palmer, who is now his wife, and knocking her out in a lift in Atlantic City in February.
It was only after footage was posted online on 8 September that Rice was released by the Ravens and banned from the league indefinitely. He has appealed against that suspension.
In a separate incident, Peterson, a star running back for the Minnesota Vikings, was arrested and charged with child abuse earlier this month.
He will remain on the league's exempt list until a review of his case is complete.
Speaking as Wembley prepares to host the Dallas Cowboys and his Jaguars team on Sunday, Khan denied the scandal had made it harder for NFL to attract new fans abroad.
"Absolutely not," he said. "I think most people are aware of what the issues are. With NFL, there's a huge amount of transparency, probably the most transparent sports league out there."
He also predicted the sport's overseas expansion would continue.
Between 2007 and 2012, the NFL held only one game a year in London. However, that number rose to two games in 2013 and three this season.
All three contests in 2014 were sold out several months in advance and Wembley will host NFL games on back-to-back Sundays in 2015.
"One logical extension is to have more than three games," said Khan. "If I was a guessing person, that would probably be the next stop."
When asked about the prospect of a permanent NFL team in London, Khan said: "I think it would be incredible. There isn't a city that is more worthy than London for many, many different reasons."
However, he questioned whether a team was sustainable.
"It's too early to tell," he said. "We are in the second year of a four-year journey and the NFL is putting a great amount of resources into these international series."
The NFL has made no secret of its desire to have an elite franchise based permanently in the United Kingdom.
But Khan dampened speculation that the Jaguars were the most likely team to take up residence in London, despite having agreed in 2013 to play matches at Wembley over four consecutive seasons.
"We have no plans," said Khan. "I couldn't be more clear about it.
"Our goal was to grow the Jaguars, a good example is the Dallas Cowboys. They are America's team but their home is Dallas. So if we use that as a model, our home is Jacksonville but we want to be the NFL international team."