Adrian Peterson: Minnesota Vikings running back suspended
Last updated on .From the section American football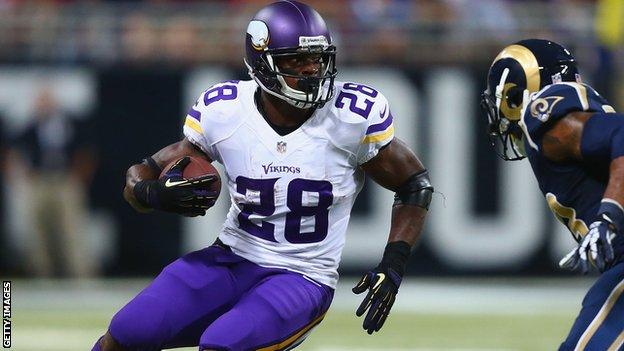 Minnesota Vikings player Adrian Peterson has been suspended for the rest of the NFL season without pay.
Earlier this month, the running back pleaded no contest to the misdemeanour charge of recklessly assaulting his four-year-old son.
In a statement, the NFL said Peterson, 29, will not be considered for reinstatement before 15 April for violating its personal conduct policy.
The NFL Players' Association said it would appeal against the suspension.
The judgement includes clauses designed to avoid a repeat of Peterson's actions, which saw him discipline his son by striking him with a flexible tree branch known as a switch.
Peterson, who was initially suspended in September, will be required to follow a programme of counselling and therapy, with the timing of his reinstatement to the sport based on the results.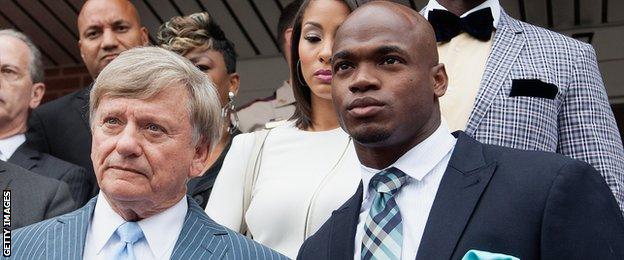 In a letter to Peterson, NFL Commissioner Roger Goodell said: "Under this two-step approach, the precise length of the suspension will depend on your actions.
"We are prepared to put in place a program that can help you to succeed, but no program can succeed without your genuine and continuing engagement. 
"You must commit yourself to your counselling and rehabilitative effort, properly care for your children, and have no further violations of law or league policy."
Peterson has played for Minnesota since 2007 and in 2012 won the NFL's Most Valuable Player award.