NFL owners back new discipline and conduct policy for players
Last updated on .From the section American football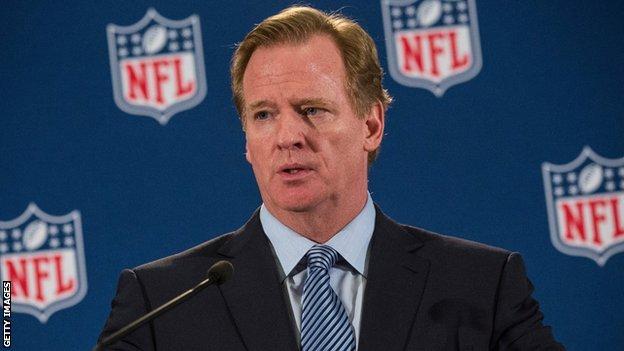 National Football League owners have unanimously endorsed a new personal conduct policy for their players.
A specially-appointed officer with a criminal justice background will now rule on disciplinary matters.
Players will be suspended for six games without pay for off-field violations involving assault and battery, domestic violence and child abuse.
"The policy is comprehensive. It is strong. It is tough," NFL commissioner Roger Goodell said.
The new policy has been introduced following a series of public scandals affecting the sport.
The most high-profile of these saw Minnesota Vikings player Adrian Peterson suspended for the rest of the season without pay after assaulting his four-year-old son, while the Baltimore Ravens released Ray Rice after video emerged of him knocking his then-fiancee unconscious.
Goodell was criticised for his handling of the Rice case, but he retains the power to hear any appeals of disciplinary decisions made under the new policy.
The NFL's domestic abuse problem
According to a study by USA Today, 85 of the 713 arrests of NFL players since 2000 were for domestic abuse incidents.
21 of the league's 32 teams
in 2013 had players who had been involved in domestic violence incidents.
A nine-member committee, chaired by Arizona Cardinals owner Michael Bidwill, includes owners, their wives and former players to oversee the new policy, which extends the range of prohibited conduct and provides funding and services for victims, families and violators.
"With considerable assistance from the many people and organisations we consulted, NFL ownership has endorsed an enhanced policy that is significantly more robust, thorough, and formal," Goodell said.
The NFL Players Association criticised the new policy, accusing the NFL and the owners of failing to consult with its members.
"Our union has not been offered the professional courtesy of seeing the NFL's new personal conduct policy before it hit the presses," a players' union statement read.
"Their unilateral decision and conduct today is the only thing that has been consistent over the past few months."
Some players have backed the new policy.
Philadelphia Eagles linebacker Emmanuel Acho said: "I think it's good for the players. I think it's good for us as individuals. And I think it's better that we go to a higher officer rather than everything run through Roger Goodell so I'm excited to see how it works in the future."