NFL 'deflate-gate': Brady and Belichick deny any involvement
Last updated on .From the section American football
Super Bowl XLIX
Date:
Sunday, 1 February.
Venue:
University of Phoenix Stadium, Glendale, Arizona.
Coverage:
Commentary on BBC Radio 5 live
New England Patriots head coach Bill Belichick and quarterback Tom Brady have denied knowledge of a plan to intentionally deflate balls during the win that sent them to the Super Bowl.
"I have never talked to anyone about football air pressure," Belichick said.
Brady insisted: "I didn't alter the balls in any way."
Deflating a ball in cold or wet conditions provides more grip for the quarterback.
So, with teams using their own set of balls on offense, those used by Brady might have been easier to throw than those used by Colts quarterback Andrew Luck.
If found guilty, the Pats face a fine and could lose a draft pick, but they are unlikely to be stripped of their Super Bowl spot.
"I was completely and totally unaware of this until Monday morning," responded Belichick when asked about the claims on Thursday.
"To me, the footballs are approved by the league and game officials pre-game and we play with what is out there."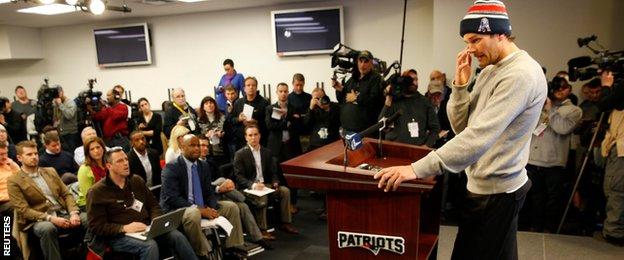 He added that, in future, the Patriots would inflate the balls to a higher level "to account for any possible change during the game".
Brady, who has won three Superbowls, said: "The integrity of the game is very important. I have always played within the rules.
"I don't like the fact that this has taken away from some of the accomplishment of what we have achieved as a team."
'Deflate-gate' has dominated the early build-up to New England's appearance in Super Bowl XLIX.
The Pats, who will face the Seattle Seahawks in Phoenix on 1 February, have famously having broken NFL rules in the past.
In 2007, they were fined $250,000 and lost a draft pick for videotaping an opponent's defensive signals. Belichick was fined $500,000.