NFL 'deflate-gate': NFL confirm Patriot balls were 'under-inflated'
Last updated on .From the section American football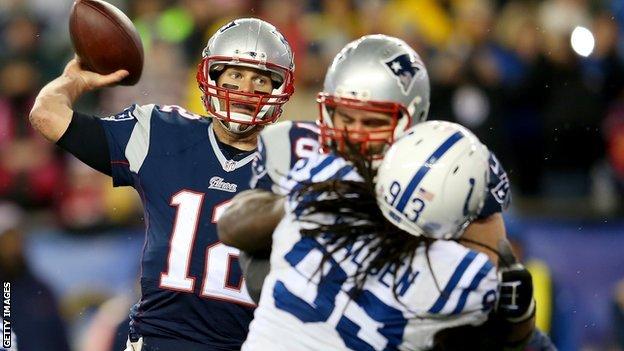 Super Bowl XLIX
Date:
Sunday, 1 February.
Venue:
University of Phoenix Stadium, Glendale, Arizona.
Coverage:
Commentary on BBC Radio 5 live
The NFL claims there is evidence New England Patriots used 11 under-inflated balls in their AFC Championship game against the Indianapolis Colts.
The balls used by the Patriots in the opening half on Sunday were below regulation pressure limits of between 12.5 and 13.5 pounds per square inch.
An investigation continues into allegations the Patriots sabotaged the balls in their 45-7 victory in Boston.
They face Seattle Seahawks in the Super Bowl in Arizona on 1 February.
An NFL statement released on Friday did not say whether the under-inflated of balls was intentional, though, and added that the balls used in the second half were "properly inflated".
Radio 5 live's NFL commentator Darren Fletcher
"Patriots quarterback Tom Brady could have been throwing beach balls and it wouldn't have made a difference because there was such a gap between the two teams."
Read more of Darren Fletcher's 'deflate-gate' analysis
The statement released on the NFL's official website read: "The investigation is ongoing, will be thorough and objective, and is being pursued expeditiously. In the coming days, we expect to conduct numerous additional interviews, examine video and other forensic evidence, as well as relevant physical evidence."
Deflating a ball in cold or wet conditions provides more grip for the quarterback.
So, with teams using their own set of balls on offense, those used by Brady might have been easier to throw than those used by Colts quarterback Andrew Luck.
If found guilty, the Pats face a fine and could lose a draft pick, but they are unlikely to be stripped of their Super Bowl spot.
The saga has been dubbed 'deflate-gate' on social media.
Patriots quarterback Tom Brady and Patriots coach Bill Beilichick have denied having any involvement in under-inflating the ball.
Brady , who has won three Superbowls, said: "The integrity of the game is very important. I have always played within the rules.