Super Bowl: Seattle's Marshawn Lynch gives same answer 29 times
Last updated on .From the section American football
Super Bowl XLIX
Date:
Sunday, 1 February.
Venue:
University of Phoenix Stadium, Glendale, Arizona.
Coverage:
Commentary on BBC Radio 5 live
Seattle Seahawks running back Marshawn Lynch repeated "I'm just here so I won't get fined" 29 times in five minutes as he reluctantly fulfilled his obligation to face reporters on Super Bowl XLIX Media Day.
The Seahawks play New England Patriots in the NFL showpiece in Arizona on Sunday and hundreds of reporters from around the world gathered at the University of Phoenix Stadium in Glendale to speak to players from both sides.
Lynch, who has previously been fined $50,000 for violating the league's media policy, shouted "time" when an alarm went off on his phone and walked off.
The 28-year-old, also known by the nickname "Beast Mode" for his aggressive playing style and occasional wild touchdown celebrations, is one of America's most media-shy sport stars.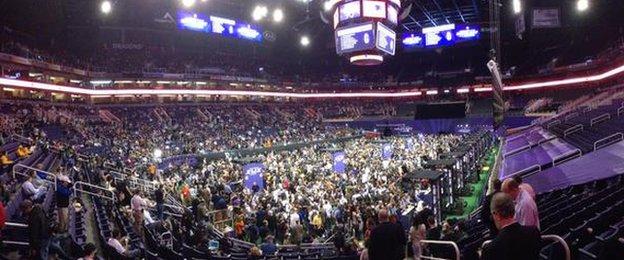 Fans had paid $33 (£22) to watch the event, where questions ranged from the detailed, tactical posers to a Mexican reporter offering a marriage proposal to the already spoken for Patriots quarterback Tom Brady.
BBC Sport's Haydn Parry was there and reviews the other big talking points.
Getting away from 'deflate-gate'
The Patriots left behind the snow and blizzards assaulting Massachusetts this week only to arrive in Phoenix pursued by a media storm surrounding the ongoing investigation into the deflated match balls used in their AFC Championship victory over the Indianapolis Colts.
But, on the eve of Media Day, team owner Robert Kraft had given his full backing and support to those involved, determined to draw a line in the Arizona desert sand.
Patriots coach Bill Belichick stuck to the new party line, refusing to offer any more comments on the 'deflate-gate' issue: "We're just focused on Seattle this week. That's it," he said.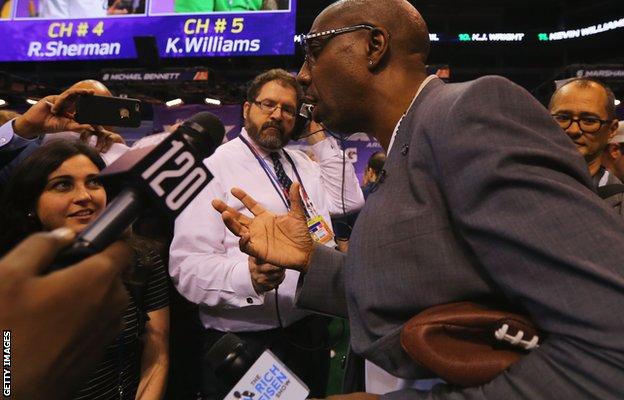 Brady eyes history
Looking relieved to no longer be talking about pounds per square inch, the focus turned to Tom Brady's place in the NFL record books.
Playing in his sixth Super Bowl, Brady now has the opportunity to win for a fourth time and so tie with other greats in his position, Joe Montana and Terry Bradshaw.
"I never thought I'd play in one Super Bowl so it's pretty unbelievable to play in six," he said.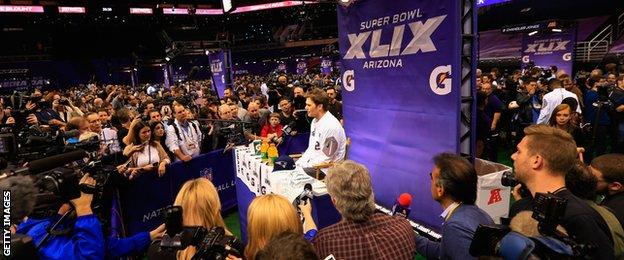 "I've played with so many great team-mates over the years, guys that really made the Patriot legacy and what our team is all about.
"This team has now got to establish its own identity and we have a great chance to do it on Sunday."
'A moose or a bear?'
Players field all manner of questions thrown at them on Media Day with good grace, whether they come from the sports hacks or strange men dressed as superheroes.
This year, one man was dressed simply in a barrel.
The enormous Patriots tight end Rob Gronkowski, who could play a major role in Sunday's proceedings, seemed to be enjoying himself, happy to be 100% fit after a playing career that has been dogged by injuries.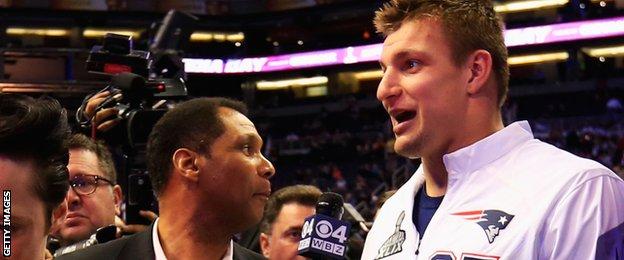 Despite this, he has caught more touchdowns in his first five years playing in the NFL than any player ever in his position.
But, he cut a bemused figure when he was asked if he'd rather "take on a moose or a bear" in a fight.
Matters soon turned to how much he was relishing facing the Seahawks defence on Sunday.
Seahawks relaxed
In their media session, the Seattle Seahawks exuded the air of confidence that comes from a side that last year emerged as champions and finds itself back again in the biggest game of the season.
They seemed determined to show the assembled press corps just how relaxed they are going into Sunday's showdown.
Wide receiver Jermaine Kearse had some words of advice for Halftime Show star attraction Katy Perry while defensive lineman Michael Bennett compared Tom Brady to Captain America.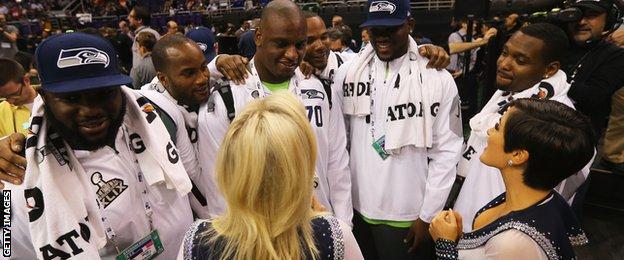 For all the banter between the two teams, the healthy mutual respect between the two head coaches was a continuing theme.
Pete Carroll stands on the verge of leading the Seahawks to back-to-back Super Bowl victories, but he was dismissive of any talk of a Seattle "dynasty".
Instead he preferred to praise the Belichick-era Patriots: "A dynasty is what New England has done, to return as their division's champs for so many years. I mean, it's ridiculous the numbers that they've put up."