Deflate-gate: Tom Brady's father 'does not doubt' son's integrity
Last updated on .From the section American football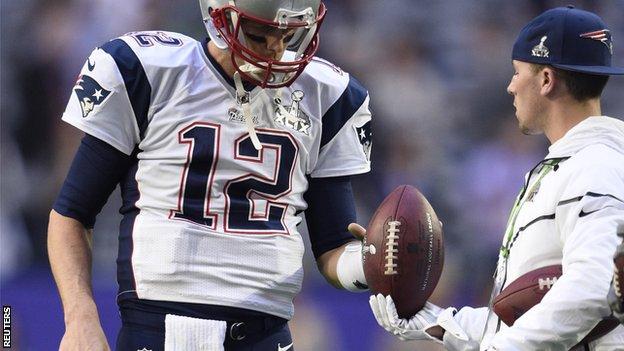 The father of New England Patriots star Tom Brady has criticised allegations his son was "generally aware" of a scheme to under-inflate balls during an NFL play-off game.
A report has claimed some Patriots staff probably deflated balls in January's 45-7 win over Indianapolis Colts.
Tom Brady Sr said he did not "have any doubt about my son's integrity".
And he claimed: "This was Frame-gate right from the beginning."
"They're saying he's possibly aware. How do you put a cloud over somebody like this?" he added.
The 243-page report, compiled by NFL executive vice-president Jeff Pash and lawyer Ted Wells, expresses the opinion that it was "more probable than not" the Patriots deliberately used balls which were below regulation pressure limits.
It added Patriots quarterback Brady was "at least generally aware of inappropriate activities" allegedly carried out by locker room attendant Jim McNally and equipment assistant John Jastremski.
Brady Jr, 37, has previously denied any knowledge of ball tampering and the Patriots went on to become Super Bowl champions.
What is deflategate?
The NFL was investigating claims the Patriots had deflated match balls to give themselves an advantage over the Colts. Eleven of the 12 game balls they provided for the rain-affected match were under-inflated by about two pounds per square inch, consequently giving Brady more grip in the cold and wet conditions. The Wells Report notes that the Colts notified the NFL before the game that they suspected Patriots might be deflating game balls.
Read more background to this story here
Speaking to USA Today, Brady Sr said the report's findings on the matter, which has been dubbed 'deflate-gate' in the media, were weighted unfairly against his son.
The report absolved other Patriots players and staff, as well as all coaches, including head coach Bill Belichick, and the team ownership.
"In this country, you're innocent until proven guilty. It just seems Tommy is now guilty until proven innocent," Brady Sr said.
"The reality is they had no conclusive evidence. The league had to cover themselves.
"This thing is so convoluted. They say that possibly - possibly - he was aware of this. The reality is if you can't prove he did it, then he's innocent, and lay off him. That's the bottom line."
NFL Commissioner Roger Goodell said the league will consider possible disciplinary action and what rules, if any, need to be changed.
Analysis: ABC Sports' Todd Ant on Radio 5 live
"It's an integrity question now. They're not bringing in Bill Belichick or the owner, it's the superstar quarterback, the one beloved by Patriots fans across the country. I remember that news conference leading up to the Super Bowl with Tom Brady, with him being asked about it. He said pretty much, 'I don't know anything, this doesn't concern me, it's nothing to do with me'. Now this makes him look a little bit bad. And his good-old-boy charm, that's a bit tarnished now."
"They're not going to take away Super Bowl trophies from these guys. Once they get a feel for this report, there'll probably be millions of dollars in fines, they may lose some draft picks - maybe a number one draft pick. That will hurt them a little bit but that's as far as it goes."