Tom Brady: 'Deflategate' report not tainted Super Bowl win
Last updated on .From the section American football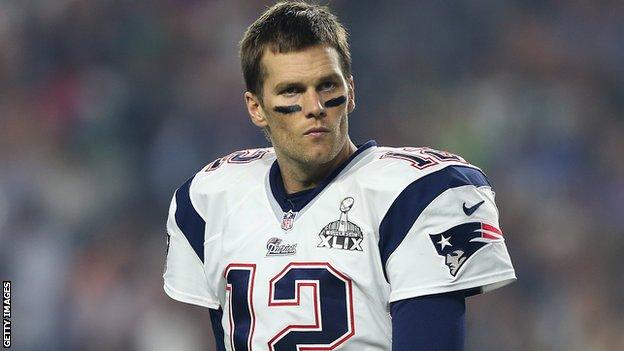 New England Patriots quarterback Tom Brady says claims he was "generally aware" of a scheme to under-inflate balls in an NFL game has not tainted his side's Super Bowl victory.
Brady said he had not yet digested findings of an NFL-led report that it was "more probable than not" the Patriots deliberately used flatter balls for extra grip.
Accusations were made after Patriots beat Indianapolis 45-7 in a play-off.
They went on to beat Seattle Seahawks.
The NFL has yet to announce what disciplinary action - if any- it will take.
Build-up to the Super Bowl was overshadowed by talk of 'Deflategate' in the play-off game that took Patriots to the showpiece event.
But speaking at a pre-arranged question and answer session at Salem State University, Massachusetts, on Thursday, Brady said his team's triumph had "absolutely not" been tainted by the 'Deflategate' scandal.
But when asked for his reaction to the report, Brady said: "It's only been 30 hours so I haven't had much time to digest it fully, but when I do, I'll be sure to let you know how I feel about it - and everybody else."
Asked when that might be, Brady said: "Hopefully soon. There's still a process that's going forth right now. I'm involved in that process. I'll certainly want to be very comfortable in how I feel about the statements that I make."
Tom Yee, Brady's agent, has accused the NFL of a "sting" operation during the Patriots' win over Indianapolis in January and claimed the report has "tragic flaws" because large parts of his client's testimony has been omitted.
What is deflategate?
The NFL was investigating claims the Patriots had deflated match balls to give themselves an advantage over the Indianapolis Colts. Eleven of the 12 game balls they provided for the rain-affected match were under-inflated by about two pounds per square inch, consequently giving Brady more grip in the cold and wet conditions.
Read more background to this story here
The report said Brady was "at least generally aware of inappropriate activities" allegedly carried out by locker room attendant Jim McNally and equipment assistant John Jastremski.
His father, Tom Brady Sr, labelled the investigation "Frame-gate".
Both the NFL and Wells' law firm were not immediately available to respond to Yee's claims when contacted by BBC Sport.