Tom Brady will appeal against 'Deflate-gate' ban - agent
Last updated on .From the section American football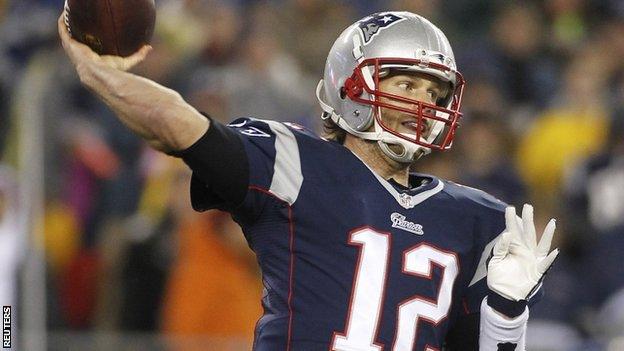 New England Patriots quarterback Tom Brady will appeal against the four-game ban issued to him after an inquiry into under-inflated balls.
The 37-year-old was punished by the National Football League on Monday following a scandal that has become known as 'Deflate-gate'.
"The discipline is ridiculous and has no legitimate basis and we will appeal," said Brady's agent Don Yee.
Brady has three days to submit the appeal to commissioner Roger Goodell.
The NFL investigated claims the Patriots had deflated match balls to give themselves an advantage in January's 45-7 play-off victory over Indianapolis Colts which sent them to the Super Bowl.
According to reports, 11 of the 12 game balls they provided for the rain-affected match were under-inflated by about two pounds per square inch, giving Brady more grip in the cold and wet conditions.
Brady was "at least generally aware of inappropriate activities", according to the independent Wells Report.
The New England Patriots quarterback will not receive any pay during his ban, while the team were fined $1m (£642,000).
But Yee and Patriots owner Robert Kraft was both highly critical of the NFL investigation.
"In my opinion, this outcome was pre-determined; there was no fairness in the Wells investigation whatsoever," said Yee. "I am very confident the Wells Report will be exposed as an incredibly frail exercise in fact-finding and logic."
Kraft added: "This punishment far exceeded any reasonable expectation. Tom Brady has our unconditional support. Our belief in him has not wavered."