'Deflate-gate': How America reacted to Tom Brady ban
Last updated on .From the section American football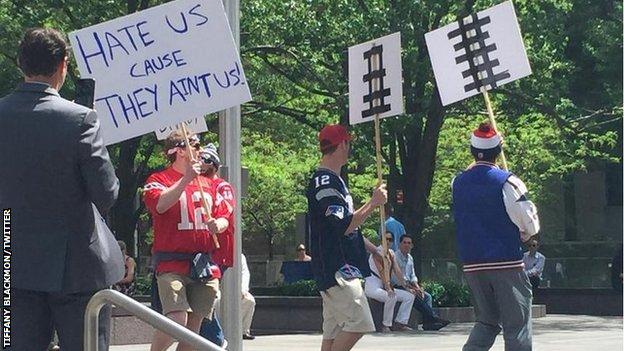 By Jamie Strickland, BBC Sport
Fans in handcuffs at NFL headquarters, a public fund to pay a $1m fine, mocking billboards and an avalanche of social media wisecracks.
Just some of the myriad ways the people of the United States have reacted to the news that NFL poster boy Tom Brady must serve a four-game ban for his alleged involvement in the 'deflate-gate' scandal.
The New England Patriots quarterback is to appeal the sanction, which is viewed as draconian by some and lenient by others.
The ban came following an NFL investigation into claims the Patriots had deflated match balls in January's 45-7 play-off victory over Indianapolis Colts which sent them to the Super Bowl.
'I'd die for Brady'
The punishment handed down to Brady has been met with irritation by Patriots staff and fans.
Brady's agent Don Yee said the four-game ban was "ridiculous and has no legitimate basis", while Pats owner Robert Kraft said the punishment "far exceeded any reasonable expectation".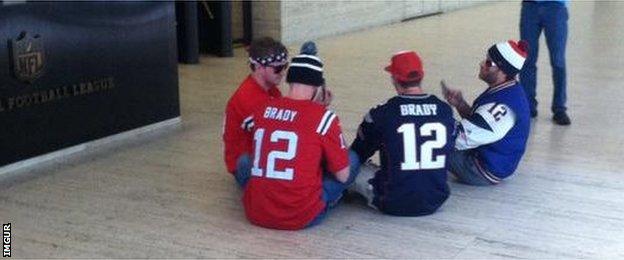 The mood of many fans was captured by a small four-man protest group that put on handcuffs and sat in the lobby of the NFL headquarters in New York on Tuesday.
While being led away by police, one protester said "I'd die for Brady", while another said it was "the best day of my life, getting arrested for Tom Brady".
No sympathy from Jets fans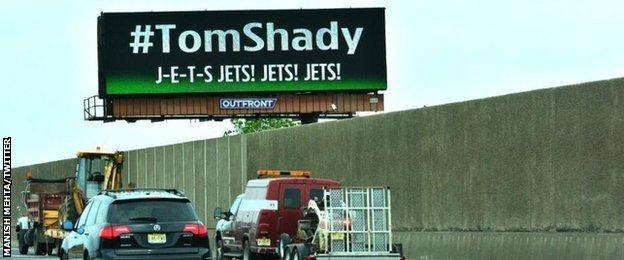 Brady and the Pats need not look four hours south-west for any outpourings of sympathy, as there is little emanating from New York.
Certainly Brady's plight has been greeted warmly by a group of New York Jets fans who went to the trouble of renting 12 billboards and plastering them with the message #TomShady, which until someone tells me otherwise I will take to be a pun on Tom Brady.
For background, the Pats and Jets both play in the AFC East and have a rivalry stretching back to 1960. As divisional rivals, they have played each other at least twice a year for more than 50 years, stoking the enmity.
NFL under fire
Social media has been buzzing with commentators keen to point out that Brady's four-game ban for being "at least generally aware" of a plan to under-inflate balls is somewhat out of kilter with the initial two-game ban handed to former Baltimore Ravens running back Ray Rice for assaulting his wife.
NFL commissioner Roger Goodell later admitted he "got it wrong in the handling of the Ray Rice matter" after footage of the assault went viral. Rice was ultimately given an indefinite ban, which came to an end when he won an appeal in November.
The initial two-game ban for Rice remains a sore point for many, and it is a wound that has reopened in the light of Brady's sanction:


American business magnate Donald Trump has also got involved in the debate, firmly nailing his colours to the Patriots mast:

Motivated by jealousy?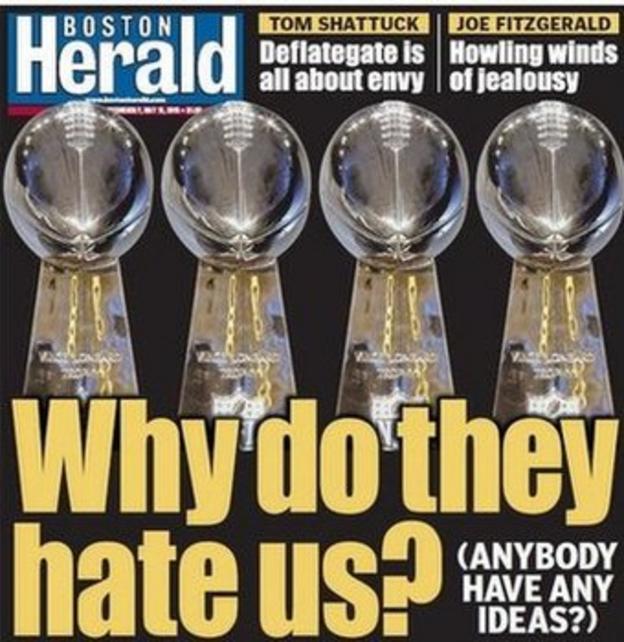 The Patriots are the reigning Super Bowl champions, their 28-24 victory over the Seattle Seahawks in January their fourth since 2001.
They have also won the AFC East 17 times since 1978 and have not had a losing season since 2000.
In addition, their total of eight Super Bowl appearances is a record they share with the Pittsburgh Steelers and Dallas Cowboys, and they are by far the most successful NFL team of the 21st century.
It all adds up to a recipe for jealousy, at least according to Wednesday's Boston Herald, which none-too-subtly suggests the Pats' recent quartet of Vince Lombardi trophies could be driving an agenda against Brady and co.
A whip-round for one of sport's richest teams
One of the more eye-catching responses to the 'deflate-gate' punishments is the decision of some fans to set up a crowdfunding page to pay for the $1m (£642,000) fine handed to the Patriots, who will also forfeit a 2016 first-round draft pick.
According to Forbes, the Patriots are the second-wealthiest NFL franchise behind the Dallas Cowboys, with an overall value of $2.6bn (£1.6bn) and revenues in 2013 of $428m (£270m).
It remains to be seen whether the Pats will accept their fans' hard-earned money.

It seems the fine is being paid for anyway
Since the publication of the Wells Report on 6 May, Brady merchandise has been in high demand and Forbes reports a 100% increase in sales of Brady-branded clothing since his suspension was announced on Monday.
Among the best-selling items are Brady's home and away jerseys, which cost $100 (£64).
Somebody get me the president
OK, the president has not got involved - yet - but the White House press secretary has.
Speaking on Tuesday, Josh Earnest said: "I do think people around the world, particularly children, particularly boys, do look up to Tom Brady.
"He is somebody who has a reputation for professionalism. He's somebody who's enjoyed tremendous success on the football field and has carried himself off the field in a way that has earned the respect of a lot of people.
"And I think that as he confronts this particular situation and he determines what the next steps will be for him, that he'll be mindful of the way he serves as a role model to so many."