American Football is proving a big hit in Ireland
Last updated on .From the section American football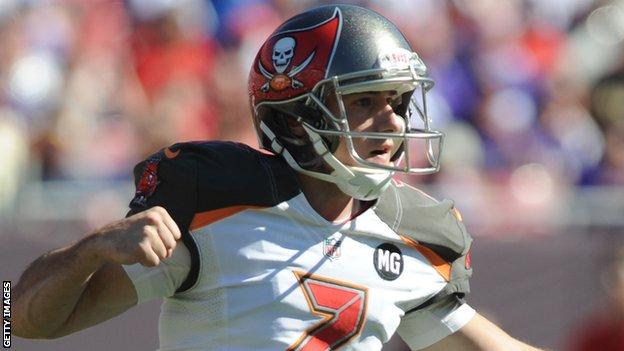 Hands up, who has heard of Patrick Murray?
Don't worry if you haven't, you are not alone. But the boy who grew up kicking Gaelic footballs because of his dad and uncle's playing careers with Monaghan GAA, is now a man kicking American footballs for the Tampa Bay Buccaneers of the NFL.
Murray has made it big, an unusual feat for a student of Gaelic football.
But, with the rise in popularity of its American counterpart in Ireland, there could be many more Patrick Murrays on the way.
The Aviva stadium in Dublin is set to host the 2016 college football season opener between the Boston College Eagles and the Georgia Tech Yellow Jackets on Saturday, 3 September 2016.
The occasion will mark Ireland's third college football game in five years.
Just last August, another college tie was held in the GAA's Croke Park stadium in Dublin between the University of Central Florida Knights and the Penn State Nittany Lions, bringing thousands from all over Ireland to watch American football.
The official attendance of 53,304 fans on the day was a record high for the sport in Ireland.
Matthew Craig, Irish American Football Association (IAFA) board member and Carrickfergus Knights Chairman does not believe the leap from college ball to the NFL is unrealistic.
"We have seen what has happened with the NFL games in London and we need something like that here regularly. I think it is something that will happen in time."
American football has come a long way in Ireland since its first ever game in 1942, when two teams of US servicemen played in front of an 8,000-strong crowd at the Ravenhill rugby ground in Belfast.
Last year, camps were held in Dublin and Belfast by former NFL full-back and Sky Sports NFL analyst Cecil Martin. Local players and non-players packed them out to receive a professional American football experience.
The IAFA's league has expanded rapidly in recent years and there are now a record 23 teams playing across three conferences north and south.
Michael Smith, IAFA President, explained how progressive that really is in the context of roster sizes.
"Most teams are kitting out with more than 30 players on the sideline and some even have upwards of 40, which is a similar amount to NFL teams."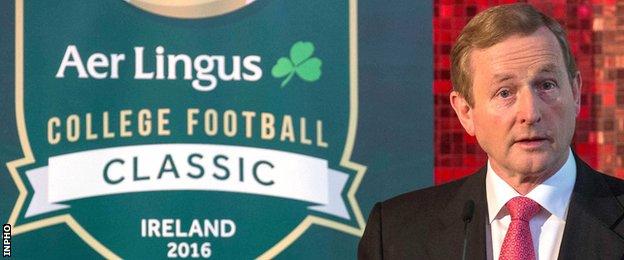 Barry Keil, Belfast Trojans Chairman and league veteran, delved deeper into the type of players that make up those numbers and why they play American football.
"Some people just don't gel into the traditional sports here, for whatever reason. Maybe we're all outcasts together and we all bond in - this sport certainly feels like a brotherhood."
"I asked the boys: Do we want to be a bunch of guys on a Sunday who throw a ball around a park or do we want to be champions, competing and playing games in Europe? We concluded we wanted to be the latter."
The Trojans may be amateurs, but their chairman preaches professionalism at all times.
"From presentation to how we run events, to how we portray ourselves in the media and social media, and how we have made our home field look - it is all important," said Keil.
"That can-do attitude has spread down through the league and everybody's now looking and going: We have to be ready and be brave to take more steps."
Smith said plans were in place to "develop more referees and help instil better coaching structures."
"The sky's the limit", Smith proclaimed for Irish American football.