Jason Pierre-Paul & CJ Wilson injured in firework accidents
Last updated on .From the section American football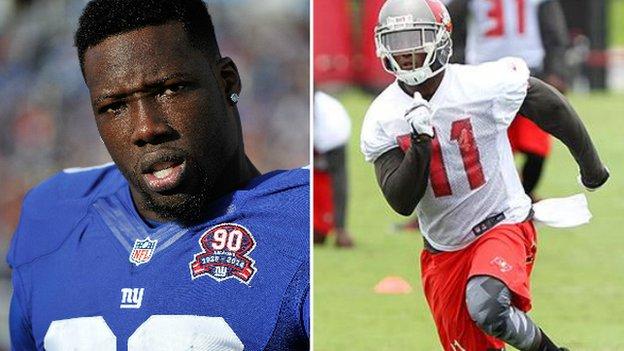 NFL players Jason Pierre-Paul and CJ Wilson have both had fingers amputated after separate firework accidents, according to reports in the US media.
New York Giants defensive end Pierre-Paul, 26, has had his right-index finger amputated, fractured his thumb and needed skin grafts, reports ESPN.
Wilson's family told the Lincoln Times-News the 25-year-old Tampa Bay Buccaneers cornerback lost two fingers.
Both players had been taking part in the USA's 4 July holiday celebrations.
Pierre-Paul, a key figure for the Giants and Super Bowl winner in 2012, will be able to play again this season according to the ESPN report, but is yet to sign a contract offer worth a reputed $14.8m.
An image of the hospital notes confirming his injury has been shared over 7,000 times on social media.
He was celebrating America's Independence Day weekend in South Florida when the incident with the firework occurred and his franchise have remained quiet on the subject.
Tampa in contrast issued a statement in which they said their "primary concern" was the "long-term health" of Wilson, who played twice for them last season.
His father told Charlotte TV that the accident occurred when a canister which contained fireworks failed to open properly.