Deflate-gate: Judge orders talks on Tom Brady NFL ban
Last updated on .From the section American football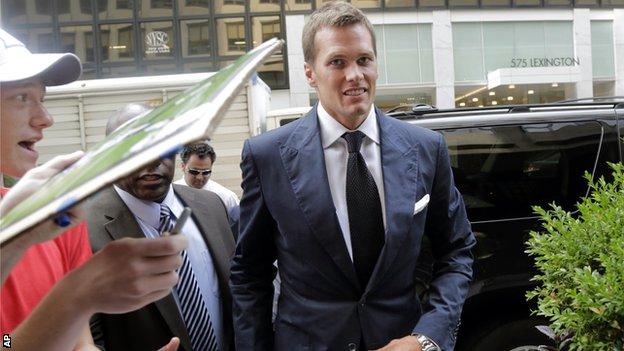 A judge has ordered the NFL and its players' association to hold talks in an attempt to reach an out-of-court settlement about New England Patriots quarterback Tom Brady's suspension.
Brady, 38, has asked for a four-game ban to be overturned after losing his appeal in the 'deflate-gate' saga.
The Patriots were found to have deflated balls to give themselves an advantage in an AFC Championship game.
The NFL claims Brady damaged the sport's "integrity" with his role.
Brady said he would "fight" the NFL over a "manufactured" controversy, and the NFL Players' Association (NFLPA) wants a federal court to decide by 4 September.
Lawyers for the NFLPA, on behalf of Brady, asked a judge to either rule on the case or put an injunction on the ban so the player can train before the season begins on 10 September.
But US District Judge Richard Berman has told both sides to "engage in further good faith settlement efforts" before a court hearing on Wednesday.
Neither the NFL nor the NFLPA would comment on the judge's order.
The Patriots beat the Indianapolis Colts 45-7 in January to win the AFC Championship and reach the Super Bowl.
But it was later found that many of the balls used in the game were underweight and had been deliberately let down to make them easier to throw and catch, suiting New England's game.
Brady, who maintains that neither he nor the club did anything wrong, was handed a four-match ban.
The NFL upheld that punishment and claimed Brady had ordered the destruction of his mobile phone during the investigation in an attempt to cover up his actions.
Brady, considered one of the best quarterbacks ever, said that allegation was "completely wrong".
He added: "There is no 'smoking gun' and this controversy is manufactured to distract from the fact they have zero evidence of wrongdoing.
"I will not allow my unfair discipline to become a precedent for other NFL players without a fight."
The Patriots have also criticised the sanction, while the NFLPA called it an "outrageous decision".
Should his appeal fail, Brady will return on 11 October - against the Colts.