Nate Ebner: NFL star to train with US rugby team for Rio 2016
Last updated on .From the section American football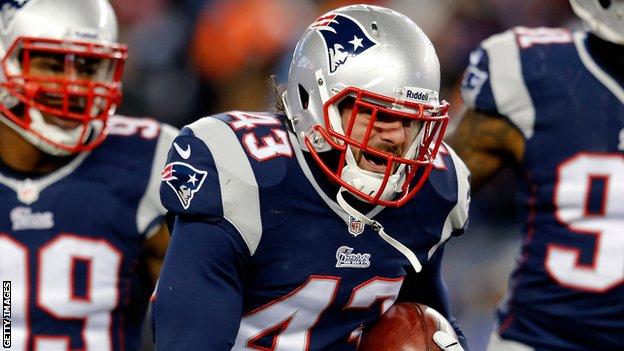 Super Bowl winner Nate Ebner has been given time off from his NFL career in an attempt to play sevens rugby for the United States at this year's Olympics.
The 27-year-old defensive back, who has taken a leave of absence from the New England Patriots, will train with the US team in the run-up to the Rio Games.
At 17, Ebner, who won the Super Bowl in 2015, became the youngest player to play for the US rugby sevens team.
He also played at the 2007 and 2008 IRB Junior World Championships.
In an interview with ESPN, Ebner thanked the Patriots and USA Rugby for giving him the chance to "chase a dream I've had since I was a boy in a sport in which I've always had a passion".
Ebner, who has just signed a new contract with the Patriots, will rejoin the NFL side after the Olympic rugby tournament finishes on 11 August.