Carolina Panthers: NFL game with Minnesota Vikings may be moved after Charlotte violence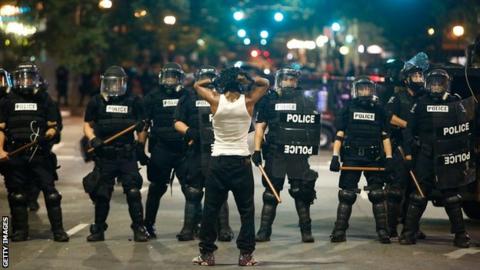 The Carolina Panthers are in talks about moving their NFL match with the Minnesota Vikings on Sunday following violence in the city of Charlotte.
The club, who play at Charlotte's Bank of America Stadium, are in contact with government officials and police.
North Carolina's governor, Pat McCrory, declared a state of emergency on Thursday after a second night of protests over the death of a black man.
Keith Lamont Scott was shot dead by a black officer on Tuesday.
The NFL released a statement on Thursday stating that it was monitoring events in Carolina but intended to play the game as scheduled.
"We are continuing to monitor events as we prepare for Sunday's home game," club president Danny Morrison said.