Oakland Raiders to Las Vegas: Relocation approved by NFL club owners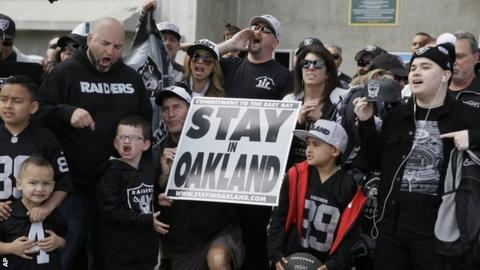 The Oakland Raiders will be the first NFL team to play in Las Vegas after their relocation was approved.
Thirty one of the NFL's 32 club owners voted in favour of the move at the league's annual meeting in Phoenix.
The Raiders will play at the Oakland Coliseum in 2017, 2018 and possibly 2019, as their new $1.9bn stadium is not expected to be ready until 2020.
"The Raiders were born in Oakland, and Oakland will always be part of our DNA," said owner Mark Davis.
"We know some fans will be disappointed and even angry, but we hope they do not direct that frustration to the players, coaches and staff."
He added the chance to build a "world-class stadium in the entertainment capital of the world" was a big step towards the Raiders achieving "greatness".
Miami Dolphins' Stephen Ross was the only owner to oppose the move - but wished the team well.
"We, as owners and as a league, owe it to the fans to do everything we can to stay in the communities that have supported us until all options have been exhausted," said the 76-year-old.
The Raiders spent 13 seasons in Los Angeles between 1982 and 1994, before moving back to Oakland in 1995.
They are the third NFL team in the past 14 months to announce plans relocate, with both the St Louis Rams and the San Diego Chargers opting to move to Los Angeles.
Sorry, this content is no longer available.